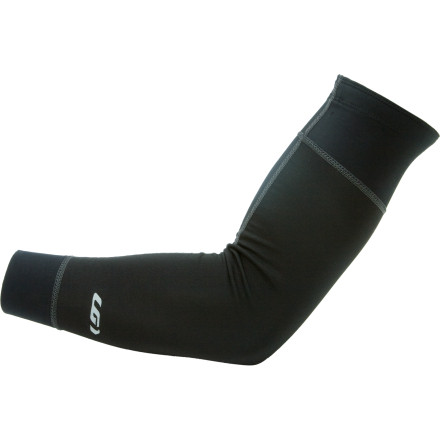 Keep your arms covered with Louis Garneau's Wind Arm Warmer. Flatlock seams deny chafe, and HeatMaxx fabric ensures your limbs will be ecstatic with joy even after a full day in these wind-cheating warmers.
By far the warmest arm warmers I have ever used. Great for extremely cold days without all the hassle of a jacket if the weather breaks.
These warmers are great for those cool rides when you put them on at the start of the ride and leave them on all day. The wind proof fabric is warm, but it makes it difficult to take the warmers off and put them back on while riding because it doesn't stretch much. Also, if it heats up, the wind proof fabric traps sweat on the inside of the warmer which can feel a bit uncomfortable.
These arm warmer will keep you warm in the coldest conditions. But to thick for much else, even if it just a little cold.
For any rider that need to stay warm with out having the bulk of a jacket on even the coldest days. I find that if I pair these with a warm under shirt and a wind vest its half the bulk and perfect for cold spring race/ training days.

Gotta have them !