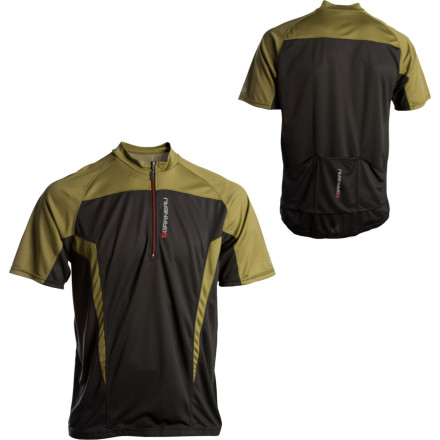 Detail Images
The Louis Garneau Men's Vancouver Bike Jersey is ideal for anyone who craves performance and a relaxed fit in the same package. Airdry polyester fabric utilizes a small inner cell construction to optimize airflow and moisture wicking. This stretchy knit material also protects your skin from harmful UV rays when you're riding under a brutal Sun. Louis Garneau designers included 3 back pockets and an MP3 pocket for your energy gel and trance-inducing tunes.
Haven't worn it for a ride yet, but wanted to echo all the reviews that say it's very big. I normally wear an XL t-shirt (I'm presently a 40" waist, 46" chest) and ordered this a size small after reading the preceding reviews. The men's Large fits, but loosely. The medium size would have probably have fit me as well.

Nice looking jersey and I like the ginger red color.

Added: Since posting the above review, I ordered the the medium and it is a comfortable fit, about as an XL would normally fit.
Picked this jersey up on Chain Love, and I'm very happy with it. Thankful I read the reviews, as I'm always a large, but I went medium and it's still loose fitting. Could really be worn on or off-road. Although it may be better for off-road riding, I've been wearing it on my road bike and it performs well - breathable, nice zipper for hot rides and great pockets.
, ☃bcs_badge_alumni_label☃
Big, Baggy and Ugs
I'm 5'7" and 143 lbs and this jersey hung off of me in a small. In addition I did not like the design with the black / white model. The experience all around blew. Per LG's size chart I should be a small given my chest is a 38. I would like to have tried an extra small as that might have worked.
got on bonktown for an unbeatable deal. got the jersey and loved everything about it, except even in the size small it fits like a tent. im 5'5" 140ish and i wear a small in pearl izumi and a medium in most euro style kit, this thing hung down halfway down my thigh. gave it to my 6' 170lb buddy and he loves it.
Even at a size Small, this jersey fits like a glove.

For $16.99 on Bonktown, I was going to do whatever it would take to fit into this jersey -- I didn't have to do much and this would be my favorite purchase from this website.
This was my first "traditional" cycling jersey, and all in all I find it to be quite good. Pros are that it is a looser fit, but without looking super bagged. The material feels like it will last quite well, and it definitely wicks and dries VERY well. Only possible down side is the zipper gets stuck, both at the top of the jersey and in my chest hair. OUCH!
This is a nice jersey, loose fit and nice fabric. However, I found the size to much larger than expected.