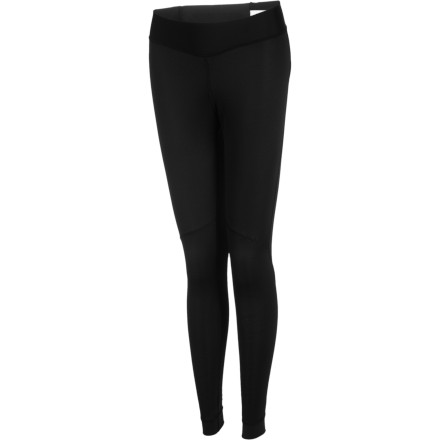 Detail Images
In the wintertime, you squeeze in whatever outdoor activity Mother Nature will allow. On snowy days, Nordic skiing could be de jour, whereas a bluebird morning calls you to the open road. Understanding the complexity of the seasons, Louis Garneau made the Twin Tights 3 to accommodate whatever falls into your outdoor lifestyle. The Twin Tights come without a chamois, so their warming, multi-panel design is ready to go over your bibs for a ride or simply over your legs for a run. The choice is yours.

The Louis Garneau Twin Tights 3 are constructed in an eight-panel design with a blend of Garneau's Elite Pro Vent 2 and Ultra Signature fabrics. The fleecy brushed-back knit of Elite Pro Vent assists in thermo-regulation by providing a breathing layer of insulated air above the skin. All the while, the fabric effectively wicks moisture to its quick-drying, micro-honeycomb outer layer. The Ultra Signature fabric features a stretchy knitted blend of form-recovering materials. This material not only keeps its shape when not in use, but offers an abrasion-free compression to help reduce muscle fatigue. With the flatlock seamed multi-panel design, the combination of materials creates an anatomic fit that comfortably follows the contours of your body. Garneau also incorporated their female-specific HuggFit waistband, as well as reflective inserts on the front, rear, and calves of the tights.

The Louis Garneau Twin Tights 3 are available in sizes X-Small through XX-Large, and in the color Black.

What do you think about this product?
Have questions about this product?
The worst "cold weather" pants ever...NOT warm at all!
I am still stunned by these pants...they are not warm in the least. As in, I tried to wear them on a short 5 mile run when it was FIFTY DEGREES out and my thighs and knees were frozen. The air just cuts right through them, making you just as cold as if you had on only shorts. It was not even windy when I wore them, it would have been downright brutal. I thought they may be ok once my body warmed up, but they just got worse and worse to the point it ruined my run.

For kicks, I wore them on a short bike ride too. Not windy out and about 45 degrees. FAIL. My legs were colder than cold and the pants were literally useless. My legs were just as cold as if I were wearing just my cycling shorts.

They also fit terribly. I am 5-7, 125 and lean. The waist in these is too big and the thighs/butt are very fitted. Therefore, the waist winds up pulling down as you work out and the crotch winds up hanging down 2 inches. Pretty much the worst pants ever.