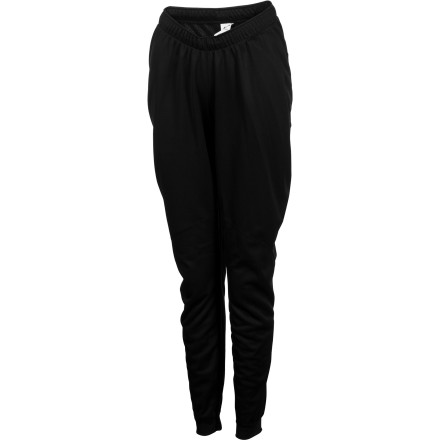 Ride in any populated area and this beautiful truth will be self-evident: People who ride bicycles come in all shapes and sizes. The fact that many high-end manufacturers of cycling apparel either don't recognize this truth or choose to ignore it confounds us. That's why we're thankful that Louis Garneau offers apparel like the Women's Twin Tights Athena 2. With an abundance of technical features and a refined fit, the Athena Twin Tights provide warmth and comfort on colder days for women with larger lower bodies.
Garneau constructed the front panels of the Twin Tights out of the new Elite Provent 2 fabric, which has a brushed back knit to provide the right amount of insulation. On the outside of the fabric, a micro-honeycomb pattern ensures that sweat evaporates away from your body. The back panels of the Twin Tights use Garneau's Ultra Signature fabric, which provides a high level of stretch for superior comfort. In total, eight fabric panels are stitched together with friction-minimizing flatlock seams, so that the tights conform to your movements. These are chamois-less tights, so that you can wear your favorite bike shorts underneath. This also gives you the flexibility to use the tights for other cold-weather activities.
An elastic waistband with adjustable drawstring secures the tights at the waist, and a reflective logo provides some added visibility. The Women's Twin Tights Athena 2 come in sizes 1X through 3X and in Black.