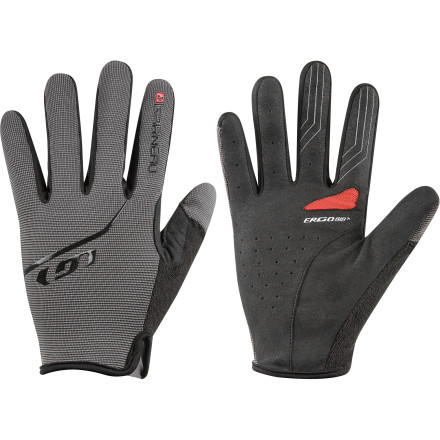 Detail Images
It often seems like companies get carried away during the design process, and build a piece of gear that's so elaborate that it loses sight of its original intention. We have a great deal of respect for anyone with the ability to restrain itself from over-building for the sake of sales. And of course, Louis Garneau comes to mind as one with a talent for minimalist design. Its products are based purely on function. In many cases, such as the Twenty-Nine Gloves, the function dictates simplicity, and the solution is nothing short of elegant.
Once you slide your hands into the Twenty-Nine gloves, you'll wonder why you ever tolerated big, bulky fastening straps to begin with. The back of the glove, made of Lycra fiber, also promotes ventilation throughout in order to cool your hand down. In addition to this, the highly absorbent microfiber thumb panel is perfect for when you need to quickly dab a sweaty brow.
The Twenty-Nine's palm is made from a durably synthetic leather called Clarino. This material, along with the Twenty-Nine's pad-less design, provides exceptional grip and dexterity, creating an unmatched feel on the bars. This perfect translation of the trail's surface gives you an upper hand while navigating tight, technical singletrack.
Louis Garneau Twenty-Nine Gloves are available in five sizes from Small to XX-Large and in the colors Black and Grey.