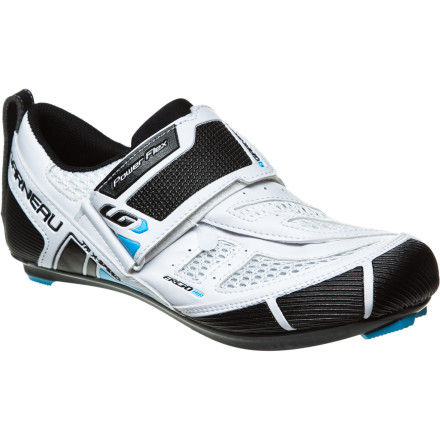 Detail Images
Triathlons are rewarding but grueling endeavors. And here's the other caveat: They're generally not cheap to enter. This can make it difficult to outfit yourself--you need equipment that will help you perform your best, but balancing performance and price is a reality for nearly all self-sponsored athletes. That's why we're happy that there's gear out there like the Garneau Tri X-Speed Women's Shoes. They're reasonably light, designed specifically to fit a woman's foot, and they efficiently transfer power to the pedals, making them an excellent choice for aspiring and accomplished triathletes alike.
All triathlon shoes are different, of course, but they all must perform one critical function--keep your feet protected from painful hotspots and blisters. After all, in triathlons, there's no putting your feet up when your bike ride is over. Garneau knows this, so they outfitted the Tri X-Speed Shoes with the HRS-80 heel retention system to keep your heel planted firmly in the back of the shoe. Additionally, the decentered Power Flex strap is angled to ensure proper arch support, reduce forefoot pressure, and provide next-to-skin fit. Because time lost in transition can be a race-killer, the strap secures from the outside of your foot inward, ensuring that it won't interfere with the crankarms when you want to get on your way first, and then strap in.
Garneau gave the Tri X-Speed Shoes the high-density Ergo Air II Nylon outsole with its multivent system. It's not quite as stiff as Garneau's carbon fiber soles, but it transfers power effectively and also offers excellent ventilation. The upper is made of synthetic leather and mesh for proper temperature regulation and durability. Ergo Air Cool Stuff blue insoles increase the shoe's ventilation properties.
The pull hoop on the back of the Tri X-Speed Shoe is anchored from the bottom of the heel so you can pull the shoes on quickly and easily. It's also emblazoned with a reflector for added visibility. The Louis Garneau Tri X-Speed Women's Shoes are compatible with two- and three-bolt pedal cleat designs. They come in whole sizes from 36-44 and in White.
What do you think about this product?
Have questions about this product?
What cleats would you recommend for this shoe? I am an indoor cyclist only.
Hey Ali,

The cleats you will want to use with these shoes is determined by the pedals you will be using. If you are using an SPD style then you will want to stick to a 2 hole SPD cleat. If the pedals you are using are a traditional road style cleat then you will want to stick to a 3 hole cleat. These shoes will accommodate both styles.

I would recommend you check the pedals you are using to find out what style pedal you currently are using. A lot of spin classes will use a 2 hole SPD style pedal.