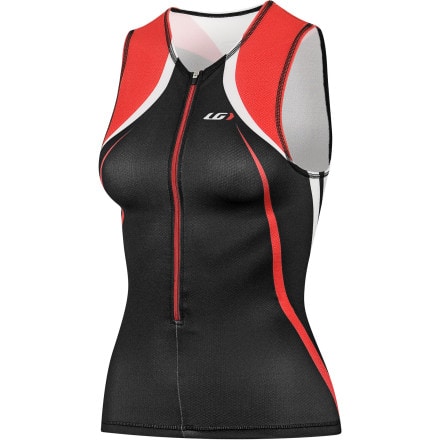 Detail Images
Description
The amphibious edge.
Whether training or actually competing, the Louis Garneau Tri Elite Course Jersey gives you an edge with its breathable stretch fabric with Coldblack treatment. The Tri Elite's seamless design reduces drag and eliminates chafing to keep you comfortable whether you're battling waves or a headwind.

To perform in and out of the water, Louis Garneau made the Tri Elite Course Jersey from a blend of polyester and spandex the breathes well and wicks moisture to kepp you dry and comfortable, even in the hot sun. This fabric is also stretchy to provide muscle support and a full range of motion. Whether you're in the water or out of it, the fabric has incredible hydro and aerodynamic properties. However, in the tri-arena, the largest benefit to this material is its resistance to water absorption. This means that you'll be drier, faster than the competition when it's time to jump in the saddle.
Garneau then treated the fabric with Coldblack, which reflects heat rather than absorbs it. Because of this the fabric stays cooler, which keeps your skin cooler as well to prevent overheating and reduce fatigue.

The Tri Elite Course has what Garneau calls its Next To Skin Fit. The arm and neck apertures have been designed for comfort, and along these lines, flatlock seams have been used throughout the suit to minimize abrasion. The Pro fits like a second skin and features a 3/4 length front zip for on the fly ventilation. The scapula region of the top is open in a more traditional tank top cut, which makes articulation as comfortable as possible.

The Louis Garneau Women's Tri Elite Course Jersey is available in Black/ginger. It's being offered in five sizes from X-Small to XX-large.