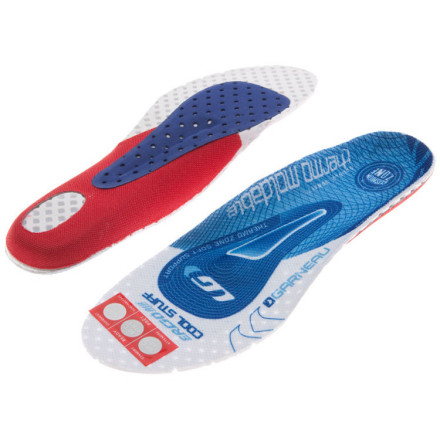 Garneau Thermo Cool Insoles give you the ability to tailor your shoes to your particular foot shape to help take away hot spots. The elimination of hot spots can sometimes be tricky business. We see thermo-moldable insoles as a practical way to achieve a superior fit. And although they are designed for Garneau shoes, we feel like they'd be a great addition for any shoe that isn't quite perfect, yet.
The Thermo Cool Insoles are made of high density EVA foam with a moldable glass heel and arch and a moldable EVA mid-foot insert. They can be molded more than once, so if you switch shoes or change to lighter socks in summer, you can always have a custom fit.They're similar to Garneau's stock Cool Stuff blue insoles in that they are heavily perforated to allow the foot to breathe as much as possible in stifling summer heat.
Molding the Thermo Cool Insoles can be done at home in a conventional oven at 176 degrees (f) for 15 minutes. When they are hot, slide them into your shoes, cinch the retention system, and let them conform to your foot. To make things easy for your baking timing and temperature, one of the insoles comes with a heat sensitive sticker. It will allow you to ensure that your insoles will come out just right.
Garneau Thermo Cool Insoles are available Small through X-Large. Each size has a range that corresponds with European sizing.