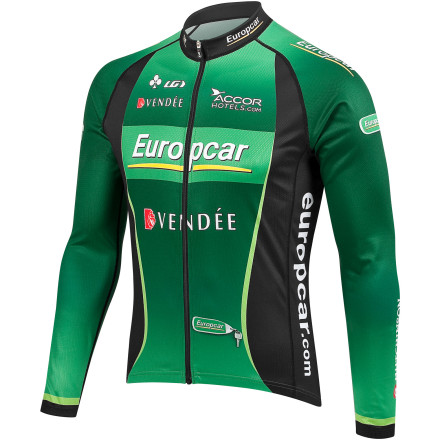 Detail Images
At Spring Classics and grand tours, you'll find the riders of Team Europcar easy to recognize in their green Louis Garneau kits. Evident when Mr. Voeckler kept the yellow jersey for 10 glorious days in France in 2011, or when he bounced back from knee troubles to prevail in the queen stage of the 2012 Tour, it's a team that makes the most of its opportunities and never concedes victory without a fight. So that you're able to do the same, the Team Europcar Jersey combines light, breathable fabric with a long-sleeve design, making it an ideal part of your spring or fall layering system.
At the heart of the Europcar long sleeve jersey is Garneau's legendary knit, which consists of a blended micro-polyester spandex mix. The beneficial aspect of the added spandex content to this fabric is that it produces a nearly exclusive ability to stretch and recover its shape. The multi-filament polyester construction, furthermore, ensures softness against the skin — essential for Garneau's ProFit designation for this jersey.
ProFit means that Garneau designed the jersey's cut around the position and movements of cycling. So, the contoured cut of the Europcar eliminates bunching and wind-flapping when you're stretched over the hoods or down in the drops. This cut, along with the stretchable fabric, provides you with a full-range of motion.
The jersey's micro-polyesters and dimpled mesh pattern possess hydrophilic properties that ensure that the fabric efficiently wicks moisture away from the skin. Additionally, its dimpled mesh construction also creates a pocket of air between the skin and fabric, promoting rapid moisture evaporation.
For storage of your ride essentials, the jersey features three rear pockets that have been angled for quick access from the saddle.
The Louis Garneau Team Europcar Jersey is available in the Europcar colorway and in seven sizes from X-Small to XXX-Large.