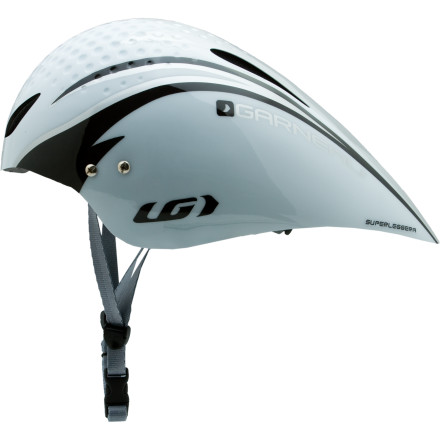 Detail Images

Videos

Community Images
We hear a lot about aerodynamics in helmet design. Few helmets combine flawless design with top of the line technology the way the Louis Garneau Superleggera Helmet does.The teardrop design of the Superleggera Helmet greatly reduces drag when seconds count and the wind is threatening your time. The dimpled frontal area makes your TT's faster by improving laminar airflow (think golf balls), and the adjustable, detachable rack-and-pinion fit mechanism (think cars) stabilizes the helmet on your noggin.
Sealed, durable, ergonomic and washable Airdry padding provides years of comfort.
Keylock Side Adjustment allows for accurate and secure strap-length adjustment
Bonded Construction binds the micro shell to the EPS without the use of conventional tape
Wind-tunnel tested for optimal aerodynamics
Stickers included to match your race kit
great helmet deal, super light
Familiarity:

I've used it several times
To often your alien TT head helmet can cost you a fortune, I picked this up just because it was a screaming deal, not because I really needed one. What a bonus when I found that I was super happy with it! It fit way better then my Giro and is very light, I ended up having to get my girlfriend one to after she tried it at a Tri. If you're doing TT's or Tri's and looking to shave some seconds it's a simple relatively inexpensive upgrade.
Unanswered Question
What do the stickers look like to customize this helmet? What colors?
Life-Saver Helmet
Familiarity:

I've put it through the wringer
Had a real bad crash few nights ago because of some unsafe cyclists, but that's not the point.



Despite the fact that I went head down first at around 30-35km/h, this helmet actually kept my head protected so much it probably had save my life. The aftermath was just some really sore muscles and painful bones, but still fortunate. The crack was all the way on one side due to the impact, but impressively it is still intact despite the damage, keeping my head all the way protected. The visor also prevent my spectacles from damaged. Overall, I am very impressed with it. Will purchase it again.
Louis Garneau Superleggera Helmet
Louis Garneau Superleggera Helmet
I love it. First of all every LG helmet I've used has given me great fit just like this one did. The benefits of the golf ball dimples and the shape of the helmet were noticeable. Of course it had less wind noise when compared to a normal slotted road helmet. It didn't feel heavy and the cooling vents do work.
My first aero helmet. It works well and makes a loud noise to scare your buddies when you zoom by. Airflow obviously isn't as good as a road helmet, but vents enough as long as you keep moving.

If you've got big ears, the ear flaps rub a bit at speed. I had to tweak the ear flaps a bit so my dumbo ears could fit comfortably.
Great TT Helmet For A Great Price
These helmets have a great fit and really fast with or with out the visor. Also really cool that you can customize the helmet with the stickers that are included.

Looks really cool with the Windscreen installed.
The helmet is very comfortable and it actually BREETH in it. Many tt helmets just feel like you are wearing a plastic bag over your head. You can feel the air flow with this tt helmet, allowing you to stay cooler when your giving it your all.
Louis Garneau Wins Aero Helmet Count at Kona!
Louis Garneau stood out in the triathlon industry at the 2010 Ironman World Championship. The first victory for Garneau took place off the course the day before the race. Louis Garneau topped the list for the Aero Helmet Count pushing out Giro for the first year ever. The count gives the industry a scope of the previous year's buying trends and an idea of who the players will be for the following year.

2010 Ironman World Championship Aero helmets
Garneau : 223
Giro : 221
Rudy Project : 114
Specialized : 62
Lazer : 57
Others : 29
Spiuk : 28
Bell : 27
LAS : 10
Ekoi : 10
Met : 8
Catlike : 7
Limar : 6
UVEX : 4
Unanswered Question
Not a review, or a question, but a comment:...
Not a review, or a question, but a comment: dimpling does NOT promote laminar air flow. Dimpling produces a turbulent boundary layer (the opposite of laminar), which mixes higher-energy airflow nearer to the surface of the helmet, thereby allowing flow to stay attached through larger flow angle changes, such as those around the back of a helmet or a golf ball. That's how dimpling reduces drag.