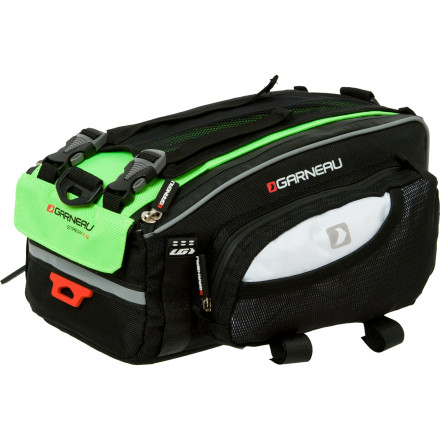 Detail Images
Carry some extra gear across town with the Louis Garneau Stream R-12 Bag. It features an insulated compartment for toting tasty beverages or snacks, along with side pouches to organize smaller items along for the ride. With a removable shoulder strap, the Stream R-12 transitions perfectly from bike to walk for all your urban adventures.
Water-resistant fabric
Foam insulatin
Removable shoulder strap
Bike pump straps and helmet holder
Reflective detailing
Looks Good. Works Medium.
Familiarity:

I've put it through the wringer
This bag looks good but doesn't work all that well. It is pretty waterproof thanks to the sealed zippers. I didn't test the shiny, insulated lining with my heated, Louis Garneau-designed filet-mignon lunch, but the cargo area was just a tad small. The four-point velcro straps are much more secure and faster than the two-strap versions that you have to thread under the whole rack. The helmet carrier holds the helmet, but you have to use the shoulder strap to carry both the bag and the helmet strapped on. You can't really use that helmet-holding mesh as a handle, either, because of its elasticity. The material did rip a little on the back panel, too. The Blackburn EX-Trunk Bag had a carrying handle in place of the helmet holder that was convenient and it had a shoulder strap, but it was so wide that it would never stay centered on the rack. If you don't need too much space, and you don't mind using the shoulder strap to carry the trunk pack with helmet attached, you should check this out. The helmet doesn't cinch too tightly, and you can probably just clip your helmet to your courier bag or even the trunk pack itself more easily. The side pockets, both the zip and mesh are pretty thin and not so usable, respectively.
Unanswered Question
What are the physical dimensions of this...
What are the physical dimensions of this bag? Specifically the front height vs the back height?
the flap at the narrow end does it also...
the flap at the narrow end does it also have a zipper or it just hangs there. things in the bag can come out if i am riding on a bumpy road please advice.thank you, Robert
The back flap is secured by velcro, and is also an attachment point for the shoulder strap. It works well, but you have to be sure the zippers are fully closed before you pick it up by the shoulder strap. If the zippers are closed, nothing is coming out.
Write your question here...I am look for...
Write your question here...I am look for a bag for my bike that I can use to commute to work and be able to fit my military uniform and shower stuff in. Would this bag be able to accomodate something of this nature?
This bag should be more than able to accommodate your belongings. With water resistant fabric, your clothing will stay dry on your commute to work