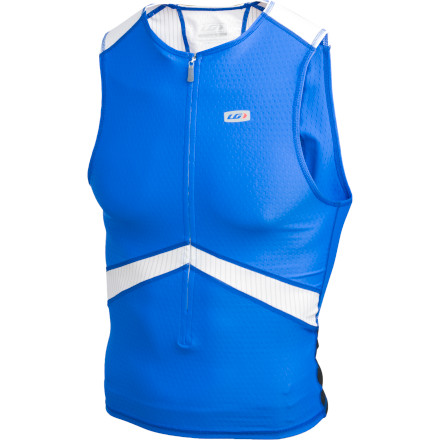 Detail Images
Packing the mobility, comfort, and features demanded by three distinct sports, the versatile Louis Garneau Pro Tri Sleeveless Jersey hugs your abdomen with podium-bound technology.
Hydrodynamic Delphino fabric reduces drag in the water and provides the abdominal muscles with compression

Breathable Carbon-X Mesh inserts keep core temperatures in check

Flat-lock seams prevent discomfort from chafing

15-inch zipper lets your magic carpet vent

Seems to work as designed
I bought this jersey on a bonktown clearance just prior to my first attempt at triathlon. I wore it in a sprint distance and olympic distance. I felt the jersey worked as advertised.

I never noticed the jersey during the swim, but I use a full wet suit. I was able to carry a pill pouch and some gel packets in the two rear pockets during the bike and run. The angled pockets definitely help getting in/out at speed, but it was still some finger gymnastics when I was getting fatigued.

The back panel definitely breathed well and relieved heat well. I was also grateful for the long zipper during the olympic event that was over 90 degrees.

I am 6'1" and 150 lbs. with a long torso to match, and I ordered a size medium. The front came down just below my belly button and just touched the top of my tri-shorts.

My one complaint was that it constantly rode up on me during the run, so I had to keep pulling it down. I have since bought another Voler two-piece kit, and it does the same, so I think I just need to move to a one-piece suit.
Good top for Olympic distance
I have raced three time in this tri top thus far. I really like it. I don't know if it is worth it for a sprint distance tri (I would opt for no top). The fabric glides well in H20 and dries within the first few minutes on the bike. The white back panels are good for keeping the heat off your back on your ride.
My only gripe would be that it is a little too constrictive when you are upright and running in it. However, it has a long zipper that allows you to get it as loose as you want on the run.
Overall I think this top is well made and defiantly worth the price.
This are supposed to be short
If you want a full coverage suit then get a one piece suit. If you dont want to run a Mankini then dont buy one. These are made to be tight and not overlap the shorts like normal jerseys. Look at all the pro's wearing two piece suits, they are all short by design. Thats why they make one piece suits and 2 pieces suits so you can choose your weapon.
Bought this jersey for my husband, and it runs too small for his torso which is very muscular. He is not very tall, 5'8" but built. Even returned this jersey for a size bigger, which still was short at the waist (above his belly button) and he could barely pull it over his shoulders. The fit is just not right for him - maybe would work for a slimmer body with a short torso?
This and the matching shorts had a one star review because of bad stitching from another owner. I'm not sure why the reviews were scraped but it may have something to do with the fact that this top has been on bonktown for the last 28 minutes and only two have sold. Even at $29.99 this is still not worth it according to the original review.