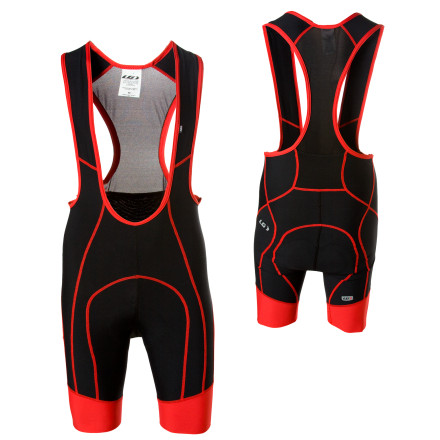 Detail Images

Community Images
In recent years, we've seen mounting data to show that specifically designed clothing, like the Garneau Neo Power Bib Shorts can offer significant performance advantages. The magic is in the blend of material that makes up the body of the shorts. They're composed of 25% Invista Lycra Power. This material helps support your muscles by giving firm yet gentle compression. And with tests showing performance gains of 10% and more, one has to wonder, exactly how does it work?
Power Lycra helps us in a couple of different ways. First, the extra compression helps circulation by providing a boost for venous blood flow from the legs back towards the heart. This is a simple equation -- faster, more efficient flow back through the heart, towards the lungs, recharged with oxygen, and back to the muscles will make you stronger, and last longer. In addition to the beneficial circulatory effect, the material saves your body some of the energy required to make this happen.
Secondly, the Neo Power Bib Shorts are designed to counter the oscillation, or bouncing, of your muscles as you ride. In a wildly exaggerated example, a guy using a jackhammer would experience serious jolting throughout his entire body. And anyone who's wrestled one of these beasts for a full workday will know -- each and every muscle will be painfully sore. This kind of muscle damage can be prevented by stabilizing the muscles. And when they're stabilized, the isolated movement is more accurate and more efficient. The advantages would increase as the road gets rougher.
Considering the functional attributes of the Garneau Neo Power Bib Shorts, they fit like a second skin. Compared to regular shorts, they'll be tighter for sure. This is perfectly normal, and when selecting the size, they should be consistent with your regular sizing in Garneau shorts. The Powerband leg cuff is one aspect of these shorts that we really like. Instead of a strip of coarse elastic and gripper material, it's made of a doubled fold of lycra. So even though the Neo Power shorts are quite snug, the Powerband doesn't feel like you're being ligated for a medical experiment of some sort.
The Garneau Neo Power Bib Shorts are available in five sizes from Small to XX-Large and come in three colors -- Black/Royal, Black/White, and Black. They are cut with 12 panels to ensure a supreme fit. All seams are flat-stitched and chafe-free with none on the inside of the legs. The Airzone Chamois is Garneau's most well ventilated. Its perforated memory foam is beveled at the edges and stitched into a vented four-way stretch, antimicrobial cover. The Neo Power bibs have a small pocket at the back and mesh straps for comfort on hot days.
12-Panel construction contours to the body and enhances comfort while you pedal
Thick power bands provide maximum muscle support with a performance fit
No seam inside the leg means limited chafing and discomfort
Low-profile, stretchy stitching of the flatlock seams reduces discomfort and enhances mobility
Beveled Molding Edges in the new Airzone chamois uses high-density memory foam and increased number of vent holes for maximum comfort
Excellent bib
Gender:

Male

Familiarity:

I've put it through the wringer
Ht: 6ft 5in Wt: 220-230lbs Size: XXL

Out of the handful of bibs and shorts I have used, these are easily the best. The chamois hits me perfectly and is comfortable for longer rides upwards of 3-3.5 hrs. I like the snug, but not tight, fit, the shoulder straps are wide enough, and it just does its job. One of the best things you can say about any piece of cycling apparel is that you forget you are even wearing it and these do that for me. They are durable too. Ive used my current pair for a couple years now as my go to big and they are still in excellent shape with no significant wear.

I will definitely be grabbing another one of these as soon as the XXL comes back in stock.
Best Bib Shorts I've Worn
Familiarity:

I've put it through the wringer
While I've never tried any Assos bib shorts (which are supposed to be excellent), these are the best bib shorts I've ever used. The compression and fit are amazing. They appear fairly durable too. They are slightly longer than my other shorts but they also don't have the slip-resistant strip one normally gets with shorts to stop them from riding up your leg. I find the design of these shorts don't need this strip. I highly recommend them. I've also bought a pair of their Corsa 2.0 bib shorts and while I like those shorts I prefer these.
Best bib shorts ever!!!
Familiarity:

I've used it several times

Fit:

True to size
Best bib shorts ever!!! Great fabric with perfect compression. I ordered a size M and it fits perfectly (I'm 6 ft tall). The chamois is light and comfortable even on 4-5 hours rides. The feature I like the most though, is the inseam length which is longer than most of the shorts out there and it gives you a very professional look. God bless LG.
Comfortable
Familiarity:

I've put it through the wringer
As far as comfort these rank pretty high. The Tight and supple material feel great. I do wish then chamois was made of a higher density material.
Favorite Bibs
Familiarity:

I've put it through the wringer
These are the bibs I save for my long weekend rides. I have several bibs from different manufacturers, LG, Giordana, Pearl Izumi and the LGs are my favorite. In particluar the Neo Power. Great fit, compression, chamois. I was concerned when I received them about riding in hot weather but I haven't noticed any problems.
Great Shorts
Familiarity:

I've put it through the wringer
These are really great bibs! The chamois is super comfy. It's not too big, but settles in for the right amount of padding. I haven't has a rash or rubbing issue from the shorts at all. They really wick the sweat away from the body. The sizes are pretty spot on. I only wear LG gear because it fits me so perfectly. I'm 5'7"; 33 waist. T-Shirt size medium; Suit size 38S-40S. The medium in this bib fits like a glove. It's tight, but just the right level of compression. You will be glad you chose these and wondering why you didn't pull the trigger sooner!
Has anyone ridden with these in 100 degree...
Has anyone ridden with these in 100 degree weather? I live in Dallas, and I worry these may be too thick for the Texas heat. Any help is greatly appreciated.
I've worn them in a ride about a month ago, where it probably peaked above 95 degrees during the ride in SoCal. The worked great! I was using a really good LG jersey (I can't remember which one). After that ride the chamois was wet, the shorts were drenched, but no rash or soreness from the chamois! I don't think you will be disappointed if you get these.



Be sure to drink a lot of Skratch in that heat though!
Hello all. Have these bibs in my wheelhouse...
Hello all. Have these bibs in my wheelhouse and looking to pull the trigger on a set, two different colors. Questions is, I have read they have the longer inseam (which is great) as I am 6'4" 180lbs, but have never worn a bib and really would like to. Will these be too tight or will they be able to fit just right? Maybe I should look at the short version instead? Thanks all and be safe out there!! Russ
Best Answer
I think these bib shorts will do you just fine. Once you go to bibs, I promise you will never go back! Bibs will feel a little snug standing straight up, but when you are in the riding position they will feel just right. Remember to look at the sizing chart before you order.
Excellent value and comfort
Familiarity:

I've put it through the wringer
This bib is comfortable all around. I love the compression. This chamois is better than most others I've ever ridden, even higher end products. The fabric thicker though and is better suited to cooler days. I love the extra inseam length on my longer legs
Super comfortable and normal sizing (ie North American) make for a great bib.
i'm 6ft 178lbs 33 inch waist and the large is perfectly snug. great chamois. legs are also the perfect length. couldnt be happier with these bibs.
Although the cut and fit was good, the type of Lycra used in these bibs is too thick and it felt like I was wearing a wetsuit. I'll stick with thinner material for the Georgia summer weather.
Man, what a smashing bib! I have been using the LG Team bibs and really like them alot. But I picked up a pair of these and, wow!
The pad is better & larger, the fit is better, the fabric is supple...these babies are kickin.

I dont feel these are quite as compressive as the team bibs, but not so much it would bother anyone. They are not loose in any fashion. A big plus, i think the inseam is just a bit longer. I appreciate it at 6'2" 36 waist 34 inseam...many times i end up wearing short - shorts with some of the shorter inseam offerings out there. The pad here is broader for more coverage without being a diaper. btw, i wear a large and have no fit issues here. I will be buying another pair (at least)!
What color is ginger? The picture looks...
What color is ginger? The picture looks red but is it really dark or
burnt orange?
Best Answer
Louis Garneau's "Ginger" is always a really nice, true RED. I have the women's neo power shorts in 'ginger', the striping is red, very sharp. Note that on Competitvecyclist.com, they look like a ugly washed-out organgy-brown and I had to ask them to describe the shade, also; since website pics. can differ drastically sometimes!

Hope this helps future purchase!
Ive worn lots of different bibs- Sugoi RS and Evolution, Capo Forma, Santini, Vermac, Nalini, and lots more.
But these are just sensational!
I dont want you to think this is a planted review but I recently did a 205km ride in 36 degree heat inc 2.3kms of vertical climbing and my backside was never a problem (my legs were another matter!)
10 out of 10!
I'll just echo what others are saying, these bibs are great. They punch well above their MSRP, and I have owned many pairs of bibs costing $50-100 more that are no better than the Neo Power. The chamois is not super thick, which is a total plus for me as I generally prefer a thinner chamois over a big diaper (I'm talking to you Sugoi RS). Size wise, I am 6 feet, 33 inch waist, ~170 lbs and the Mediums fit me very well. I have had lots of team kit from LG over the years and the M bib short is always the size for me. The Neo Power are pretty snug until washed a couple of times but over many washings the Power Lycra has retained its compression.

The only drawback is that these are probably not the best bibs for scorching hot weather. The Power Lycra is thicker than most shorts I have owned. I consider them great for temps up until about 80 F but beyond that I think these would be way too warm. Fortunately live in a climate where is 80 is a scorcher.
I've been a mountain biker and did some training on my road bike here and there. Until recently I've really gotten into road biking and decided that I needed to get myself a some good cycling gear. This is my first pair of Lycra shorts, all my other rides were in mountain bike shorts so I can't comment on these shorts vs other bibs.

I typically ride anywhere from 50 to 100 miles, as you can imagine I was looking for comfort over my mountain bike shorts. I did a lot of reading and wanted something comfortable, functional, and of course looked good. The LG Neo Power Bib Short seemed to fit the bill.

I wore these for a 70 mile ride and was beyond pleased with the comfort of these shorts. I don't know why I waited so long to get into lycra gear. The chamois was super comfortable over my older shorts. I would definitely recommend these to anyone looking for a great bib short.

I'm 5'9", 160-165lbs and went with a medium after reading the other reviews. The fit is spot on.
Unanswered Question
What is the country of manufacture for the...
What is the country of manufacture for the Neo Power bibs?
The LG Neo Power Bib Shorts offer great value and comfort for the price. I prefer these to Assos and Skins. There was a problem with the chamois, but LG replaced during the 1-year warranty period without any problems. For sizing reference, I am 5' 9.5, 172 pounds and the XL fit perfectly. The extra length of the inseam (11.25 inches versus other brands' 9 to 9.5) adds to the comfort.
These bibs are so nice all around. The chamois and fabric will last for ever and feel great the whole time.