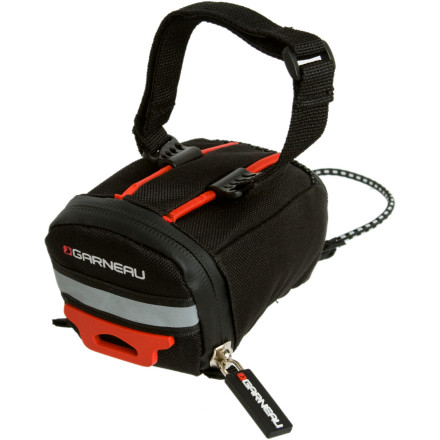 Detail Images
Louis Garneau's smallest, lightest saddle bag gives you just enough room for a tube, micro-tool, and your keys. In other words, the essentials. Rest easy knowing that everything you really need is securely strapped directly beneath your seat.
The Louis Garneau Mini Race 2 Bag has its ups and downs. The size of the bag is perfect for race day to fit a spare tube, hand pump and even keys. The design is sleek and light as well. Through I do find that the bag installation is hard to conceptualize at first, the drawcord is a nice touch.

That being said, some problems arise. The zipper is a bit too stiff for a small bag that you'll be stuffing a lot into. The velcro used to attach the bag to the rails of the saddle is not great either as you need to double check on its security. It is a nice starter bag or small bag to throw a minimal amount into, but you'll be wanting more of the design later on.
This is my second Mini Race 2, but I had to return this bag - there is a gap in the velcro on the strap so that when you cinch it up, there's only about 1 inch of contact between the hooks and loops of the velcro, which wouldn't stay together - the bag kept falling off during rides. Interestingly, I have another one of these supposedly exact same bags which doesn't have this issue - no gap in the velcro, and it stays secure under the saddle. I'm not quite sure why they were made differently.
It is very difficult to zip and unzip this bag. Perhaps it's because they were trying to create a waterproof seal. Whatever the case, I broke off the zipper pulley within my first couple rides (simply from trying to open/close the bag). I have substituted the pulley with a keychain ring to serve as a makeshift pulley.
What's to say about a saddle bag. It holds tight to the rails and doesn't sway. I can stuff a tube, CO2 cartridge with head, and tire levers. That's about all there is room for. I'm sure if I went with a super light tube I might be able to fit my keys in. For what I need it for it does the job nicely.
Good enough I will be purchasing 4 of them.
Well designed bag sans the rear clip. The bag is very secure and the full wrap velcro does a great job of keeping the bag from swaying under the saddle bottom. The elastic post strap is low profile, won't mar up the Thomson etching that is under so many of our rear ends, and holds tight on my 31.6 dia post. Should have zero issue holding a 27.2 post also. Really like that there is no velcro on the post strap which tends to snag bib-short legs.

I can cram, 1 std (not ultra-light) 700x18-25c tube, (2) 16 gram CO2, 1 micro inflate head, micro tool, 2 tire levers, and 2 insta-patches inside. Not much extra space beyond that for anything beyond a few wadded up dollars. An ultralight tube would allow for either a 3rd tire lever or perhaps keys.

The rear light clip is more of a urathane/silicone loop so the rear flasher (PB superflash) kinda just flaps around in the back and does not really point straight back nor does it stay still.

Overall recommend and will be buying more