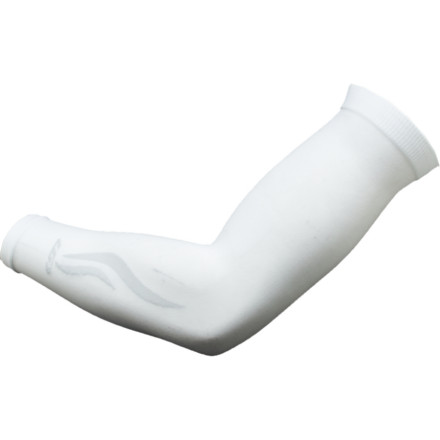 Detail Images
Just because it's chilly outside doesn't mean you need to lug around an extra bulky layer. The Louis Garneau Matrix Arm Warmers are perfect for crisp morning rides that morph into warm afternoon spins.
Super-stretchy for perfect fit on any size arm
Flatlock seams eliminate bothersome itching
SPF/ UPF 50 prevents sunburn
I actually find these to be a really useful item...but as Arm Coolers, not warmers. They're super thin, offer UV protection, and do a decent job of wicking moisture. I wouldn't say they're cooler than no sleeves on a hot day, but if you're worried about the sun, these will help keep you covered without overheating. On really hot days, try pouring some water on them. I definitely wouldn't classify them as arm warmers, though.
Ordered then returned it. Tight on upper arm (and I"m a smaller woman), magnified because they were topped with a "stickey" band of elastic which was narrow, like Scotch tape. So if you have guns at all, they'd better be cap guns! Fabric was like light tights, so really wouldn't help that much to keep warm or in the wind, for that matter.
is this a single sleeve or a pair?
is this a single sleeve or a pair?
Best Answer
It is a pair left and right, kind of a rip if you only have one arm.