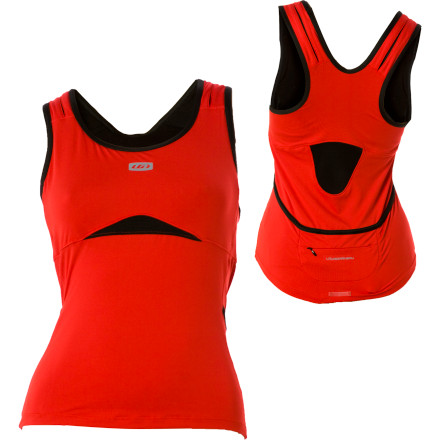 Detail Images
Enjoy the feel of the wind on your bare shoulders when you hit the road in the Louis Garneau Women's Fast Skins Sleeveless Top. Thanks to a built-in bra, this top will be all you need for warm-weather rides, and definitely all you'll want for a sweaty spin class. The top's soft knit fabric looks like cotton but performs like polyester, wicking moisture away from the skin and drying quickly after your workout. Mesh inserts allow air to circulate where you need it most. A back pocket with an invisible zipper safeguards small essentials like a key or cash for the smoothie you've earned by burning at least 5,000 calories.
I love this top....very comfortable.....very cooling!
True fit and nice fabric. I didn't notice how small the pocket on the back was until I received it, though.
This is a comfortable, functional perfect summer riding tank. Wish they had an XS as I'm 5'4", 120 lbs and chestless, but the S works just fine. I bought 3!
B.C. list this as, for example a SMALL as being a 34" bust; but on Competitivecyclist, they list a SMALL as being a 32" bust. Sometimes the charts on these sites differ; my experience is to go with the size chart on Compcyclist for the most accurate fit. They also have great up-close views of any product!

Hope this helps your future purchases!
I totally agree with Christine, this top is too short. It just reaches my belly button. You should expect, when ordering an XL, this is not designed for people measuring 5 feet.
Also the bra's elastic is a perfect fit for my waist, but is not big enough (breast can pop out at the sides), so I will not go on the streets without bra :)

The fabric is very light and the mesh parts are very welcome on hot training days. A plus for the very fast tissue top and nice design. The back pocket could have been a bit larger to fit some money and phone.
LOVE this top! The quality is wonderful, the fit is great, and the fabric feels soft and wicks well. I could live in this tank!
Great look and fabric, need more pocket space
This is a great top overall. The fabric is unbelievably light and cool for rides on hot days or in hot spinning studios. The interior sports bra fit me really well (often they're not fitted enough for me); you might even be able to run or do other activities in it. The drawbacks for me were: (1) the 1 small pocket on the back. I could barely fit my Droid in it with some money, and (2) I wish the top were a little longer. I think the length would be fine for most people, but I'm really long waisted; most LG tops are longer than this one is.