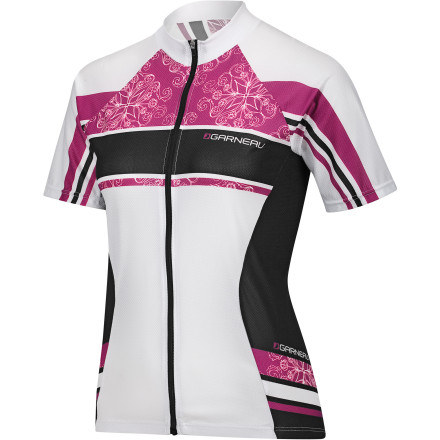 Detail Images
Long rides on sweaty, humid days are far more comfortable when you're in the right jersey. However, the question begs to be asked, out of Louis Garneau's extensive line of jerseys, which is best suited to your riding style? Well, if you intend to ride long and hard, but you don't want a jersey that fits like a wrapped boa constrictor, the Factory Women's Jersey is for you.
At the heart of the Factory jersey is Garneau's legendary Diamond fabric. Known for providing excellent airflow, Diamond is the choice of many top riders for guaranteed comfort in hot weather. How does it work? Well, its crosswise diamond pattern knit ensures that the fabric efficiently wicks moisture moisture away from the skin. We know, you've hear that one before. However, this material not only keeps you dry, but prevents the jersey from sticking to your skin -- a common source of abrasion. Additionally, Diamond's texture also creates a pocket of air between the skin and fabric, promoting a rapid moisture evaporation.
In terms of fit, Garneau designed the Equipe with what Garneau calls its ProFit. So, as its name suggests, the jersey is intended for those who are spending an equal time in the drops as they are at their desk job. However, there's more to this fit than just good intentions. In fact, Garneau has cut the jersey on an anatomic curve that's specific to the woman's body in both the position and movements of cycling. Ultimately, this equates to a drastic reduction in fabric bunching and abrasion whether you're down in the drops or over the hoods.
For storage of your ride essentials, the jersey features three ample rear pockets that have been angled for quick access from the saddle. Garneau has also added reflective elements throughout the jersey in order to increase your visibility to motorists in low-light conditions.
The Louis Garneau Factory Women's Jersey is available in six sizes from X-Small to XX-Large and in the colors Atomic Blue/black/white, Candy Purple/black/white, Ginger/black/white, and White/black.