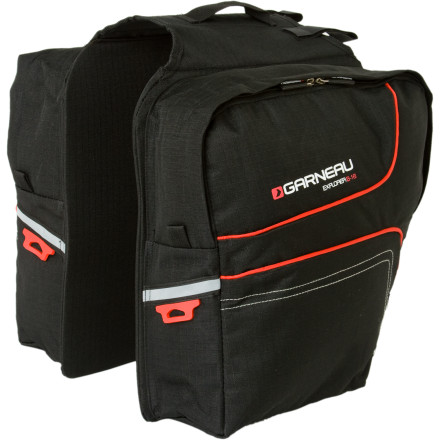 Detail Images
Whether you're commuting to work, riding to the store, or packing light for a tour, the Louis Garneau Explorer B-16 Cycling Panniers allow you to store the essentials without weighing down your ride.
Burly water-resistant fabric helps protect your gear from soggy road conditions

Slim profile helps keep you nimble in traffic

Zip openings provide access to the main compartments

Sixteen liters of total space provide enough room to pack gear for outings around town and for shorter recreational tours

Reflective detailing and safety-light holder help keep you visible during night rides

Compatible with virtually any rear bicycle rack

Share your thoughts
What do you think of the
Louis Garneau
Explorer B-16 Panniers
? Share a...
Good Value for casual riders
For $30 bucks these are great for casual riders. They are big enough for lunch and sweaters, but too small for even a 13" laptop. If you looking for a set of saddle bags/Panniers to commute to work, probably want to look further. Oh, the small bungee cords on one site broke the 2nd ride. I replaced with round shoe laces.
Unanswered Question
What are the dimensions of the Louis Garneau...
What are the dimensions of the Louis Garneau Explorer B-16 Cycling Panniers.
Unanswered Question
Will this bag fit a 15" laptop with a...
Will this bag fit a 15" laptop with a neoprene sleeve on one side?
Work perfectly for commuting
These panniers have been on my commuter for about a month now, along with the LG R-16 topper. They fit my rack fine and are very stable. They have kept my clothes and lunch dry in light rain. This time of year when I need extra layers in the morning, but not in the evening, there is plenty of room to carry a jacket and anything else that needs to go home.
I would not recommend these for anyone wanting to carry more than commuter essentials or day excursions, they are not high capacity. I have failed to fill them to capacity on a commute, but I don't wear size 13 men's boots to work, either.
Unanswered Question
What is the actual size of one of the...
What is the actual size of one of the individual bag on the Louis Garneau Explorer B-16 Cycling Panniers?
May not be for everyone ...
Out of the box the Garneau panniers are striking. This is a well made and equally nice looking set of bags. Their simple design with large roomy pockets on each side complimented with double zippers is perfect. I'm even a fan of their Zipper Pulls which are quality to say the least. Their trademark rubber fasteners for a rear light, (or rear lights), is a nice touch. It should be noted these bags are "attached" and therefore you cannot put one side on and leave the other side off. The panniers have a comfortable center handle which allows you to grab the bags and take them off the bike easily. (That's the good news.)

Now the bad news. You'll like these panniers right up until you set them on your "standard rack". Standard racks are about 6 inches wide. The width of the separation between these two panniers is only 5 inches! What is advertised is "compatible with virtually any bicycle rack". This will be a problem for many riders.

On a personal note, I was having a great deal of trouble finding a rack for my new Cannondale. The 2011 bike I purchased is about as "rack unfriendly" as you could make a bike. Thankfully, after an eternity of research, I found a company in Canada that made fully adjustable racks that not only fit my bike, but with a rear rack width of only five inches!

Another situation many riders will experience, and have to work around, is the Velcro fasteners. These un-movable strips of Velcro didn't work with my rear rack. Thankfully I was able to work around it. As mentioned in my other reviews of Garneau bags they need to create a movable/slide-able attachment allowing for a more universal rack fit.

For me the panniers are very good. If they had a better attachment they would be great. They will be great for you too provided your rear rack width is 5 inches.

I hope this has helped.

Enjoy the ride … it goes by fast.