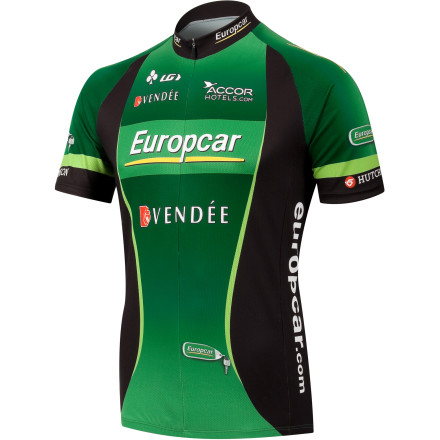 Detail Images
While taking note of a certain Frenchman's gritty style as he carried the Maillot Jaune in 2011 (Voeckler if you didn't guess it), you most likely noticed his Louis Garneau Europcar Jersey. Accordingly, Garneau felt the demand for idol-worship and created the Europcar Replica Jersey. It provides Garneau's essential proprietary features, with the stylish green and black design that'll make you feel like Tommy and Pierre. However, your friends will appreciate you keeping your tongue in your mouth on the climbs.
At the heart of the Europcar Jersey is Garneau's legendary knit, which consists of a blended micro-polyester spandex mix. The beneficial aspects of the added spandex content to this fabric is that it produces a nearly exclusive ability to stretch and recover its shape. The multi-filament polyester construction, furthermore, ensures softness against the skin -- essential for Garneau's ProFit designation for this jersey.
ProFit means that Garneau designed the jersey's cut around the position and movements of cycling. So, the contoured cut of the Europcar Replica eliminates bunching and wind-flapping when stretched over the hoods or down in the drops. This cut, along with the stretchable fabric, provides you with a full-range of motion.
The Replica jersey's micro-polyesters and dimpled mesh pattern possess hydrophilic properties that ensure that the fabric efficiently wicks moisture away from the skin. Additionally, though, its dimpled mesh construction also creates a pocket of air between the skin and fabric, promoting a rapid moisture evaporation. Adding even more cycling-specific comfort is Louis Garneau's Coldblack finish. Unlike common dark textiles, which absorb heat, this treatment reflects it. Accordingly, the surface of the Europcar Replica stays cooler because of this. So, the treatment helps you avoid overheating during physical activity, and with a UPF/SPF 50 protection level, your skin is protected, too.
For storage of your ride essentials, the jersey features three ample rear pockets that have been angled for quick access from the saddle.
The Louis Garneau Europcar Replica Jersey is available in seven sizes from X-Small to XXX-Large and in the Europcar team colors.