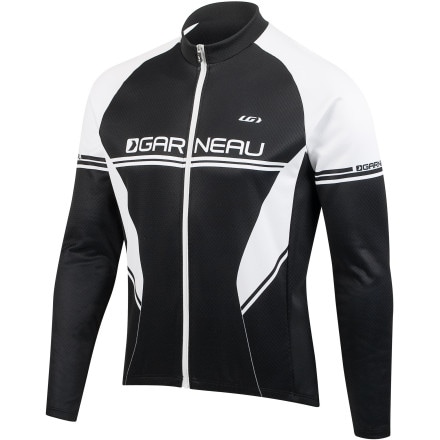 Description
Less sweat, more riding
You can't be warm if you're drowning in sweat. Let's do an experiment: Moisten the top of your left hand and blow on it. Now, blow on your dry rear hand. The temperature difference is night and day. Louis Garneau combats this cooling effect by incorporating moisture transferring, fast-drying proprietary fabrics into the Equipe Long Sleeve Jersey. The Equipe's pro-fit design will make those base miles more enjoyable in the dark cold of winter.
Louis Garneau's Equipe Long Sleeve Jersey is made from the Elite Pro Vent 2 fabric. With its fleecy, brushed-knit inner-lining, the Elite Pro Vent 2 material creates both a warming effect and soft contact with the skin. Additionally, the synergy between the inner-lining and the micro-honeycomb outer-layer promotes effective breathing and quick-drying moisture transfer.
The Pro Vent's stretchy fabric also provides a precise no-slip fit when coupled with the integrated elastic grippers at the wrist-cuffs and bottom hem. To accentuate the Equipe jersey's stellar design, Garneau has also included a full-length front zipper, three angled rear pockets, and a reflective logo on the back of the jersey.
The Louis Garneau Equipe Long Sleeve Jersey is available in seven sizes from X-Small through XXX-Large and in the colors Black/white/orange, Black/white, Black/red.