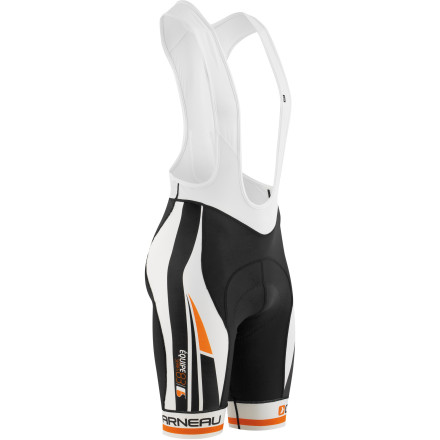 Detail Images
If you race multi-day stages, or solo endeavors like RAAM, you've got enough on your mind with pre-race jitters. Don't let your worries get the best of you wondering if your shorts will be comfortable and supportive enough for the long haul. Reach for Louis Garneau's Equipe Bib Shorts, and focus all of your energy on the task at hand.
The Equipe bib shorts were constructed from a combination of Lycra Power and Lycra Pro fabrics. Power Lycra features excellent compressive properties to support your muscles and reduce muscle vibration during vigorous exercise. It absorbs moisture from the skin and wicks it to the surface to keep your temperature regulated. This material also features a UPF of 50 to keep harmful rays away from your skin. The addition of Lycra Pro means that the shorts stretch to fit you and recover their shape after each wearing. This knit also features a UPF of 50 with a weight of 235gsm, which makes it a midweight Lycra knit. The bib straps were sewn from Power Mesh, which is a lightweight material that wicks moisture away from your skin.
To avoid chafing in the saddle, the inner thighs of the shorts are seamless. All of the remaining seams were flatlock stitched to reduce irritation. Rather than using narrow bands against the thighs, wide Powerbands hold the shorts rights where they should be. The bibs have one back pocket, which holds a phone, MP3 player, or gel, and reflective accents have been added to enhance low-light visibility.
Perhaps the most impressive feature of the Equipes is the AirGel chamois. This is Garneau's most comfortable chamois designed for long days in the saddle. It is developed using Crabyon fabric, which is used in wound healing. This antibacterial, biodegradable, and allergenic material is applied to burns and helps in tissue regeneration. Additionally, the perforated padding wicks moisture to the surface of the Crabyon where it is evaporated, keeping you dry.
The Louis Garneau Equipe Bib Shorts - Men's are available in six sizes from X-Small to XX-Large and in the colors White/royal, Black/ginger, Black/fluo orange, and Black/iron grey.