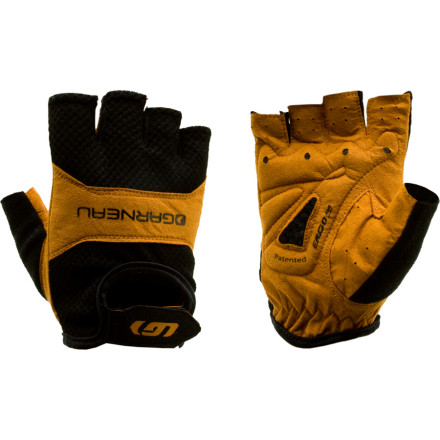 Detail Images
Louis Garneau goes old- school with the Men's Deluxe Cycling Glove. But while these gloves may evoke the look of yesteryear, they deliver up-to-the minute performance. The mesh top may vents like the old cotton crochet gloves, but is completely different in that it stretches for comfort and dries very quickly. Foam pads on the perforated Amara palm cushion your hand, absorb shock, and reduce fatigue. Amara also has the advantage of being highly washable, another way in which it differs from old-fashioned leather-palmed gloves. An open-cell microfiber foam insert on the thumb provides an absorbent pad for wiping away sweat. A hook-and-loop strap ensures a custom fit.
Share your thoughts
What do you think of the
Louis Garneau
Deluxe Gloves
? Share a...
Value Style
Familiarity:

I've put it through the wringer
Good glove with minimal padding.I prefer no gloves but am constantly cleaning my tires with the palm of my glove so minimal or no padding is ideal. I bought 2 pairs, 1 is worn out 1 is still kicking after a season of hard use. All synthetic materials means no risk of shrinking leather when washed. Open mesh back is nice but does mean you may end up with odd leopard print sun tan marks on the back of your hands. Fit is a little tight and pinched a little at the webs between my fingers but they broke in nice. For the price buy 3-4 pairs and call it good for a couple seasons.
I like the classic old style mesh to keep the clamminess off the top of my hands. I'm usually an XL and I bought the XXL.
The good the bad the ugly
Nice gloves, but nearly no padding on the palm and the mesh makes the gloves a little less comfy than a lycra backed glove. Unfortunately the fingers were sewn together unevenly with the tops longer than the bottom on one glove.
I agree, good glove, sizing wrong!
I bought these in large as I am between sizes on most gloves, but the large size was smaller than any mediums I own! I swapped for the xl's and they fit great. For the price they're a good deal
material on the palm that grips well and dries a lot more quickly than actual leather. The strap is difficult to close straight (rather than at an angle) once the glove is on your hand, but that does not bother me too much. I hand-wash my gloves, so color bleeding has not been a problem. Good value.
Though these gloves seem a bit tight on the hand initially, they soon soon begin to loosen up just the right amount, save for the wrist section, which continues loosening...
I enjoyed the look and feel of the leather, especially on my leather barwrap. The padding, however well designed, bleeds excessively with a urine-hued yellow film that covers the white portions and any other colored bar wrap/component.

I would buy another pair, if it weren't for the bleeding padding.
Good Gloves, Misleading Pictures
Don't be misled by the over exposed pictures. I was expecting to get gloves that were black and yellow, but when I got them they were black and brown. It's a bit disappointing... The gloves themselves are pretty nice though.
Unanswered Question
Do you ship to Canada?
Plus 1 on the sizing comments. I wear a large normally with LG gloves, but needed a XL in these. The white looks cool, until the palm material is washed and bleeds a little. Light on the padding (which I prefer). But, the price is only slightly more than crocheted gloves and you can wash them...
I love the look, I love the material, and the design,

but whyyyyyyyyyyyy are is sizing so messed up on some bike apparel?

I first bought a pair of large glove, they were too small, then I bought a pair of XXL thinking I could stand them being a bit big as opposed to small.

well, They are just as small as the LARGE! that's right theyr'e labeled correctly l, xxl, and they are MENS, but seriously. XXL's are too small. What a joke! So if you have smaller hands, get an XXL. if you have normal sized hands, get another glove.

"If the glove don't fit, you must aquit"
Solid pair of gloves.
The fleecey thumb is awesome for whicking away snot and sweat.
Good design, excellent price
I can't imagine a better value in riding gloves. They're washable, too! The only caution concerns the sizing. My hands measure right in the middle of the range given for size large, but I had to exchange for XL. Recommend you measure carefully and if you're not at the bottom of the range for the indicated size, order the next larger size.