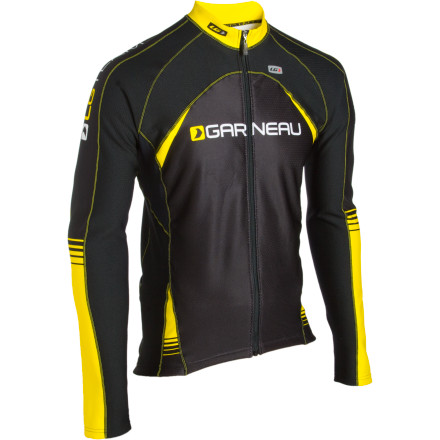 Detail Images
You can't pigeon-hole Mother Nature into polar extremes. There will be riding days that require a parka. There will be days where you don't want clothes at all. And there will be days that you need something right in the middle. The Louis Garneau Corsa Long Sleeve Jersey provides excellent protection for moderate conditions without sacrificing any of the aerodynamic properties of the classic, short-sleeve Corsa. Follow the middle path, and ride with joy.
The Louis Garneau Corsa Long Sleeve Jersey is constructed from two fabrics that provide effective core temperature regulation. The Elite Pro Vent fabric's micro-honeycomb structure wicks and insulates thoroughly, while the hypoallergenic and antibacterial Carbon T-Ion fabric helps to enhance blood circulation, and protects your skin with its UPF/SPF 50 protection. The Corsa Long Sleeve is a pro-fit jersey, and features a full-length zip and three angled rear pockets. For extra comfort, Louis Garneau incorporated flatlock seams, a rounded collar, and a signature gripper on the rear hem to control jersey-rise.
The Louis Garneau Corsa Long Sleeve Jersey is available in seven sizes from X-Small to XXX-Large, and in the colors Black/yellow, Red, and Royal Blue.
Mini-light rubber tab for added safety in low light
Signature gripper at back of hem prevents jersey from shifting in flight
Front & back reflective logos keep motorists aware of your presence at dusk
Rounded collar keeps the elements out and adds style to the Corsa
MP3 pocket for motivation
EZ pocket ensures keys arrive home safely when you do
" This black and yellow jersey makes me feel good every time I put it on. It's beautiful. In fact, I even like looking at it when it's hanging up in the closet! I'm 5' 9" tall, weigh 166 lbs and measure 39 inches on the chest. The large fits me like a glove and I appreciate the generous arm length for warmth. By itself, it keeps me warm in the mid 60's. At cooler temperatures I need base layers due to wind coming through the zipper. On my coldest ride, 3 hours at 42 degrees with a strong wind, I wore this and a short sleeve base under a long-sleeved winter base, and was comfortable while riding, but once I got home and stopped exercising, I discovered that I was deeply chilled. So for rides like that, you may want to add a jacket along with base layers.

It looks sharp, wears great, and I appreciate the bright yellow for road safety. It's a great jersey.
(Black/gold) Keeps me warm down to the mid fifties on sunny days and, with a vest, into the high forties. Not really any room for a base layer since the fit is definitely snug (based on size small / 35" chest / 30" waist / 130 pound rider).

Quality is what I normally expect from LG. It is wonderfully soft and comfortable. Zipper operates smoothly even when carrying downhill speed. There is no excess fabric to flap in the wind. The length is good - no bunching in the front and plenty of coverage in the rear though not really an issue with bibs. The jersey is very breathable and restricts wind somewhat but does not block it so you stay reasonably cool on the climbs and zip up to stay warm on the descents.
Great jersey for the price
Paired with a summer-weight base layer, this jersey kept me comfortable during the night time leg of a 24-hour race this fall. Air temps in the mid-30s to high 40s. I used a wind vest for high speed bombing runs down the mountains.

Full zip equals full ventilation. Wicking was excellent. The reflective bits were a nice touch in the dark.

Sizing is race fit. People with really long torsos may want to try it before buying. It's cut to fit while riding, so it may feel a bit short while standing. I think this is OK since it reduced bunching. Also, this fall weight jersey seems to run one size smaller than its summer weight counterpart. I'm 5'10", 42" chest, 31" waist, average torso length wearing a large (I wear a medium in summer weight). Garneau says they account for fabric thickness in sizing, but I found differently. Also, watch the velcro on your gloves--it can snag the fabric.
Can it wear it during in Summer ?
Can it wear it during in Summer ?
I wouldn't recommend it. It would be too hot.
I love this shirt. I'm 6'0", about 180 lbs and purchased an XL because there were no L sizes left. The XL fits wonderfully I originally thought I'd use it as an outer layer while looking for a jacket. I was wearing it on a very chilly day (maybe about 45 F degrees) when a downpour of rain came and I was very comfortable in nothing but this jersey above the waist. I think it looks great, but more importantly it feels great. It has a very soft, inner liner and does a great job against the wind also, though not a windbreaker. I've since found a jacket and frankly, only wear the jacket if this is dirty and not an option. 15+ rides, more happy with it on every ride.
Unanswered Question
is there a large, normal fit, (not slim)...
is there a large, normal fit, (not slim) long or short sleeve jersey anyone can recommend
Is this a jersey to wear in winter?? What...
Is this a jersey to wear in winter?? What is the temperature range when you would wear this? thank you
It's brushed microfleece, so by itself or with a vest in transitional weather- 45-60ish..
I wore it in about 45 degree weather while raining and was VERY comfortable. I prefer it to wearing a jacket. With something on top such as windbreaker or jacket it would probably take you down to near freezing.