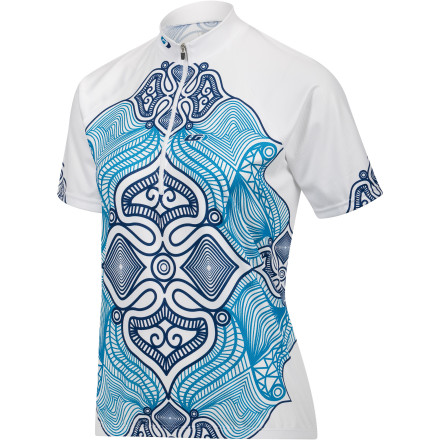 Detail Images
Believe it or not, becoming a cyclist doesn't necessarily require a love for wearing skin-tight clothing. You have options. The Women's Coral Jersey features what the good folks at Louis Garneau call 'Semi-Pro' fit, which falls neatly between pro-racer tight and casual-loose. Not only does this style provide a look that you may find more appealing, but it offers more versatility than a skin-tight jersey because it looks completely at home on a mountain bike, as well.

The Coral Jersey's main body fabric is Light Micro Airdry. Thousands of small inner honeycombs give the fabric a pocketed surface that increases airflow and adds efficiency to the fabric's moisture-wicking properties. Additionally, you'll find that this design, coupled with Airdry's polyester composition, is incredibly soft and forgiving on the skin. So, mile after mile, you'll be riding dry and comfortable.
In terms of fit, Garneau designates the Coral jersey as having a Semi-Pro Fit. This means that Garneau designed its cut around the position and movements of cycling. Unlike pro race jerseys, however, Semi-Pro has a slightly relaxed fit. You'll also notice that the Coral provides you with a full-range of motion. This is credited in one part to the cut and secondly to the Diamond fabric's composition. In fact, Garneau purposefully designed to have a stretchable knit, which is reinforced by its 140g/m2 polyester construction.
For storage of your ride essentials, the Coral jersey features three ample rear pockets that have been angled for quick access from the saddle.
The Louis Garneau Women's Coral Jersey is available six sizes from X-Small to XX-Large and in the colors Candy Purple/rose drummond/white, Black/charcoal/white, White/atomic Blue/twilight blue.