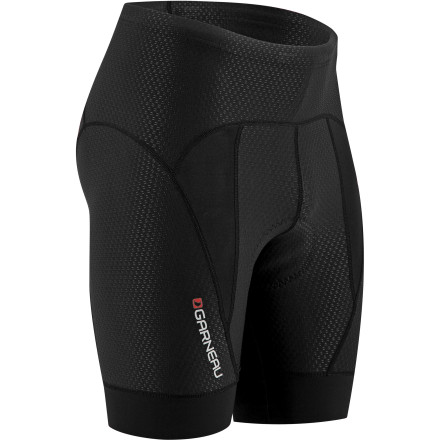 Detail Images
There is no greater test for a piece of cycling clothing than the all-day ride that extends well past the century mark The Louis Garneau CB Carbon Short says, 'bring it on.' With high-tech fabrics that help your body regulate its temperature and a chamois that actually helps heal wounds rather than causing them, the CB Carbon is prepared for the worst that you can dish out.
The CB Carbon's main body fabric is CB Carbon Lycra. This anti-static fabric's compressive properties enhance blood circulation to improve oxygenation of cells so you stay fresh longer. It also supports your muscles to reduce the fatigue effects of road vibration. The breathable knit wicks moisture away from your skin to the outside of the fabric, where it dries quickly. This wicking property keeps you dry and comfortable an allows your body to regulate its temperature more easily.
The blend of nylon, Lycra, and carbon fiber creates a texturized outer surface that enhances temperature management for comfort in a wider range of varying outside temperatures. Comfort management is further enhanced with a coldblack treatment, which reflects heat rather than absorbs it. This reduces the temperature of the fabric and cools your skin.
In areas where enhanced compression and support are advantageous, Garneau adds Endurexx panels. This material is a nylon/spandex blend that is soft to the touch for added comfort. It adds support to your more susceptible muscle areas. Endurexx is also durable, maintaining its shape and color after being exposed to a concentration of chlorine exceeding 15 times the prescribed swimming pool level.
The CB Carbon is an 11-panel short. Meticulous attention was paid to maintaining fit and providing muscle support in the most crucial areas. Flatlock seams throughout the shorts reduce chafing and irritation. Garneau provided a drawstring at the waist so you can snug up the fit on long rides. instead of traditional grippers, which can bind and pinch, the CB Carbon is fitted with laser-cut Aero-Lazer bands at the thighs that provide a smoother, more comfortable alternative.
The CB Carbon is fitted with the Airgel chamois–Garneau's most comfortable for all-day rides. Perforated gel inserts take care of the majority of shock and road vibration. These inserts are also breathable to avoid moisture buildup. The chamois' surface fabric is Crabyon, developed for the medical community. Crabyon is allergy-tested, antibacterial, and completely biodegradable. It actually accelerates the healing of wounds, helps regenerate burn tissue, and enhances the body's immunity to disease and infection. It even maximizes your chamois cream's effectiveness by releasing it slowly and steadily over the course of your ride.
The Louis Garneau CB Carbon Short is available in sizes XS through XXL and the colors Black and Black/white/ginger.