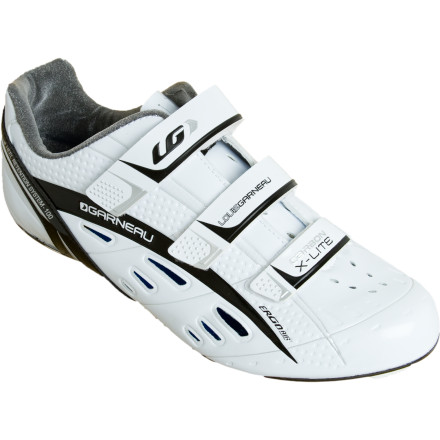 Detail Images
Description
More carbon, please.
Light? Come on! You won't even know that you're wearing the Louis Garneau Men's Carbon X-Lite Shoes until you feel the instant power transfer from your legs to the rear wheel. Louis Garneau pushed its design to the edge to create a sub-200 gram shoe that gives the competitive cyclist the stiffness, support, and ventilation needed to win races.
Good shoe, not "superlight"
First of all let me say that I never actually used the x-lite shoe. I ordered it and when it came the first thing I did was weigh it. I am a consummate "weight weenie" so one of the most important reasons I ordered the shoe is that it is advertised by Louis Garneau as a "sub 200 gram" shoe. Now I figured that 200 gram number was probably for one of the smaller sizes and that the size 43 that I ordered might be just north of the 200 gram figure. However, when I weighed the shoe upon receiving it I was dis-heartened to see that the actual weight was 270 grams! That is a HUGE difference. So I promptly returned it. For reference I own a pair of 2006 Nike Poggio shoes that weigh 270 grams per shoe in the same size and a pair of 2009 Pearl Izumi Octane SL shoes that weigh 220 grams per shoe on the same scale. On the positive side I will say that the shoe is very sharp looking. Much better in person than in pictures. Also, I did try them on and found them to be very comfortable, supportive, and well built. I believe that it is probably a very good shoe. But it is NOT a super lightweight shoe.
Best shoe if you want something super ventilated and three strap.
Nice quality shoe for the price. Probably the lightest cycling shoe I have owned. Nice touch that you get 2 insoles. Just watch sizing. I usually wear a size 41 in Sidi (I am a size 7 1/2) and many other brands but had to go with a 41.5 with this one. I don't know if the whole size range is a little off, but I had to go up 1/2 size.
Unanswered Question
Need a size for the LG xlite shoe. I...
Need a size for the LG xlite shoe. I wear normally a size. I have a pair of bont's that are 42 and sworks that are 43. The sworks are a little tight.
Do LG shoe sizes run large, small, or on...
Do LG shoe sizes run large, small, or on point? I wear size 44 Shimano road shoes.
Write your answer here...I usually were a 44 or 45, after live chatting with a realcyclist rep I went with the 44; the size is spot on. The rep did say they run a bit narrow which works for me. If you have a wide foot you might want to size up or stay with Shimano which tends to run wider