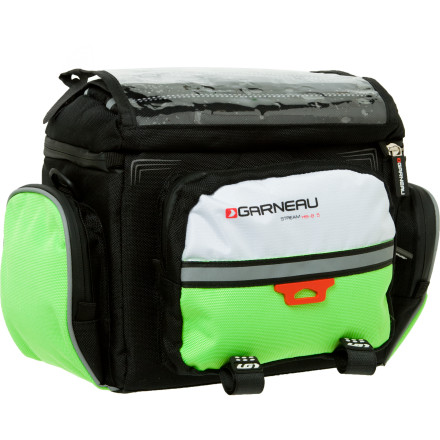 Detail Images
With the Louis Garneau Box HB 8.5 Bag on your ride, you can pack a lot of gear into a small space. This handlebar-mount pannier bag comes with ultra-burly, water-resistant fabric and a plastic liner to keep your gear dry in soggy conditions. The main compartment is ideal for toting food, extra clothing, cameras, or any other crucial gear that you need at your fingertips.
The zip side pockets provide easy access to your phone or handheld GPS system
The upper cinch straps keep your map locked in position as you battle a headwind
Removable shoulder strap makes the Box HB 8.5 a great option for urban trips
Bike pump straps keep your repair-kit essential on lockdown (pump not included)
Reflective detailing and safety-light holder help keep you visible during night commutes
Overall Not Bad
Familiarity:

I've used it once or twice and have initial impressions
The mounting system is thorough and works well enough. There is an impressive amount of storage space as well. You certainly can't beat the price for this one.



The only complaint is that it seems to lack a bit of structural integrity, so if you load it up, it sags a bit.
Happy with the sale price
Familiarity:

I've used it once or twice and have initial impressions
I used it for the 220 km riding. Sale price is not bad. It worth more than $26 at least. One problem is that there would be no space for the front light. But this problem is not limitted only this handlebar bag. And there must be some solution Im working on it. Durability, design, space. Everything is just fine for me.
Happy after 400+ miles - great bag, easy fix for mounting problems
I bought the black version of the HB 8.5 a couple of months ago and am quite satisfied after 400+ miles of mostly paved trails with some dirt road/hardpack. Full disclosure: this is the first bar bag I've used.

First, to address a critical complaint seen in other reviews: the bag's bar-mounting brackets are actually quite solid - but ONLY with the addition of thin rubber strips or similar material between the brackets and the handlebar to increase friction. The brackets are plastic, like the rest of the QR system, and while strong, it just doesn't have the grip/friction against metal to withstand even a small load. With the addition of thin rubber strips, though (spares from Blinky-style light mounting brackets), the problem was solved for me. Test carefully before you ride!

I ran the bag for 100-150mi on my MTB (still mostly paved trails as above) before transferring it to my new touring bike, where it's been for a little over 300 miles. The bracket/QR mount remains rock solid and I absolutely love the easy-on/off simplicity of it. While it is all-plastic, It still feels tough and solid. The problem I saw with the bar-mount portion is not strength-related, just lack of friction. The QR portion (mounting/dismounting the actual bag from the mounted bracket) has worked perfectly for me with no modification.

When it comes to size, make no mistake: this bag is BIG. I use Trekking/Butterfly bars, and the bag fills up the bars' indented center area with a bit of impingement on the side pockets in back. That's not proved a problem for me as it's slight and I can still carry my wallet, keys and the like in a single pocket. I like the accessibility without having to open the main compartment. That said, I can definitely see the potential for problems with the side pockets interfering with drop-style bars. No personal experience there, though.

The main compartment is, as you might guess, big. 8.5L is a lot of space :) It's lined with mesh over a plastic stiffener with no internal compartments or separators save the small mesh pocket on the underside of the lid. So far, it's held its shape well and has swallowed about whatever I put in. The limiting factor here is more mass than volume, IMO. In my case, bag and contents tend to come in at ~10lbs for normal rides with plenty of space for extra stuff. I'd have no problem loading it more heavily for extended rides, just haven't had the need so far.

The map compartment on top has held up great, with no visibility or cracking issues. It is secured to the top front of the bag with a seam and has hook-and-loop tabs toward the back to help secure it. The clear material forms a pocket for the map, with another hook-and-loop fastener to close the base. It extends to drape over the back of the bag. Right underneath the top of the bag sports an elastic line compression system for even more carrying capacity. I've had no call to use it so far, but it looks like it'll hold up just fine.

Finally, there's a good-sized zippered front pocket with attached loops to hold your pump. The upper portion of the front pocket is made of a reflective white material. It's a great place for the bag's included shoulder strap and, in my case, spare sunglasses, batteries, etc.

I chose this bag over others because of the QR mounting bracket, size and style. I like the external pockets for high-value and/or fragile items, leaving the main compartment open for other stuff.
The bar-mount portion of the bracket was useless without rubber strips to add friction, but with them it's been rock-solid. The QR portion of the bracket has performed flawlessly from the start. I've been very happy with the overall performance.

My touring bike is fully rigid and while the bag does bounce a bit on uneven hardpack/potholes, it's not excessive and I've seen no sign of possible mounting failure - the QR bracket remains rock-solid, but this is a big bag, and it's not completely rigid. Hit a good bump and you'll likely see some movement/bouncing. It hasn't proven a problem so far, though material fatigue may eventually change that.

I can't speak to the bag's actual water resistance as I've only been 'spat on' by rain so far. Though it lacks a rain cover, the zippers are all sealed and top is covered/protected by the map holder while the sides and bottom are protected by the plastic liner. I don't see a problem but also haven't put it to the test :)

I ride several times a week, mostly in the 10-20mi per ride range so far. The HB-8.5 goes with me on every ride. It only sees sun during use, but no sign of fading or damage so far. Your experience, of course, may vary.
Bad design, Bad attachment system
Even with an empty bag, and a tight attachment system this thing bounces up and down, only to be used on very soft and level roads in the city.

Also this is a Large bag and has large side pockets which get in the way of my thumbs, I actually decided to remove them.

The map case is hard to store when not in use.