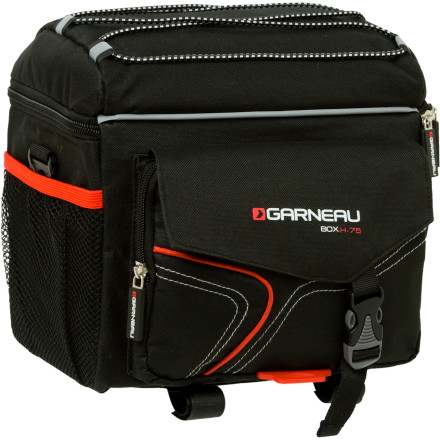 Detail Images
Transporting possessions on your bike has come a long way since the days of wicker baskets. The Louis Garneau Box H-7.5 Bag mounts to your handlebars and allows you to pack along food, extra layers, a camera, GPS unit, or any other crucial gear that you need at your fingertips.
Burly, water-resistant fabric and a plastic liner keep your gear dry in soggy conditions

Mesh side pockets provide easy access water and snacks

Upper cinch straps keep your map locked in position as you battle a headwind

Removable shoulder strap makes the Box H-7.5 a great option for urban trips and exploration

Bike pump straps keep this repair-kit essential on lockdown (pump not included)

Reflective detailing and safety-light holder help keep you visible during night commutes

What do you think about this product?
Have questions about this product?
Garneau Handlebar Bag

The H - 7.5 Bag, or Box, as its sometimes called, may have a name you'll soon forget, however that is the only thing you will forget about this bag. As soon as I took it out of the box I was impressed with the design, color combination, and overall quality. I knew this bag would be with me for a long time.

I like "simple" things. This bag is just that, a very well made, easy to use, simple bag. There is one roomy main pocket and one adequate sized front pocket. I'm a little concerned about the two mesh side pockets with elastic as if anything is going to rip or give you trouble it's going to be these. However, that is just a guess at this point.

There are an assortment of bonuses including Velcro straps to hold your pump, an adjustable top strap to keep an item or two right on top of the bag, (I dislike those vinyl map holders that some bags have on top but that is just my opinion), reflecting stitching, a rubber holder for your light, and even a shoulder strap, just to name a few.

The bag is available in black with a touch of red, or red with a touch of black.

It should also be noted Garneau offers another handle bar bag that is larger, called the Box H - 8.5. Among some of the differences in addition to size is the 8.5 has two side zippered pockets instead of mesh pockets. Personally I like the appearance of the 7.5 a little better.

The instructions for installation, like most instructions, could be much clearer and larger. It was suggested to "cut" the cable which holds the bag to the handle bar. I actually found away to feed it back through and therefore not have any sharp cable interfering with my bag.

Once installed the bag sits nice and upright. It feels secure on the bike. The bag "unclips" perfectly should you want to take it with you while grabbing a water or whatever.

I am very impressed and glad I did my research. The H-7.5 is well made nice looking handle bar bag that is worth the investment.

Enjoy the ride … it goes by fast.
Unanswered Question
Can somebody please post the actual...
Can somebody please post the actual dimensions of this bag? I have been looking all over the internet including Garneau's site, and NOBODY has the dimensions! Thanks.
How much clearance is between the handlebar...
How much clearance is between the handlebar and the bag once it's mounted? I wouldn't want the bag to interfere with in-line brake levers on my dropbar.

Will the mount twist on the handlebar when the bag is loaded? If not, what prevents it from moving?
Hi Jackson, I hope all is well with you.

To answer your first question I don't believe the 2.75 inches/7 cm clearance between the bag and handlebar will be enough for all bikes. I actually placed all my cables through the center of the Bag Handle Bar attachment. It's very neat and clean, but again, not the answer for everyone. I included a photo because I'm such a nice guy, LOL!
As for your second question, I was very concerned that the bag, once installed, would remain upright even when fully loaded. Thanks to a cable that wraps around the handlebar stem and is then locked within the Handle Bar attachment the bag seems solid and stable. I want to take a second and report the instructions are not that clear. The pictures/diagrams are small. It took me a while to fully understand how the bag was to be installed and even then I found a slightly better way. May I suggest you take a few minutes to read and understand the installation process before you attempt. The instructions have you actually cutting the cable when you are finished. I don't agree with this. I feed the cable back through away from the bag toward the bike. This will ensure the cable doesn't damage the bag.
I hope this answers your questions.