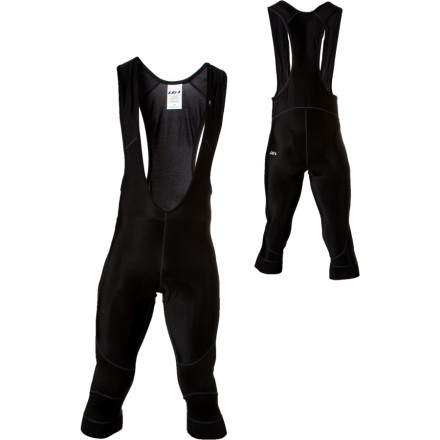 Detail Images
When we reach for knickers, our go-to pairs are thermal, insulated versions like these Garneau Bib Knickers. After all, when it's chilly enough to pass over knee warmers and shorts, the extra insulation is nice to have. Garneau cuts these from their HeatMaxx thermal fabric. It's similar to Roubaix type fabrics you might've worn, with a smooth knit exterior and a brushed, cozy interior.
That same brushed inside acts to wick moisture from your skin to keep you comfortable even as you sweat up a climb and descend over the backside into the wind. If you're like us, you wear knickers to protect your knees and when you know that full tights would be overkill. That's why these knickers have panels across the knees and lower quads made of Light WindDry 2 fabric. It's a 2-ply fabric with a windproof membrane on the inside. The best part is that it's stretchy, like the rest of the Bib Knickers, and won't hinder your pedaling movements.
Since you'll be wearing your knickers while you rack up base miles for next season, it's also important to have a high quality chamois. This is why Garneau stitches in their Airzone chamois. It's comfortable for extended saddle time due to the reliance on a layering of low-density foam over high-density memory foam. The edges are tapered for comfort -- no pinching and no chafing. The foam pad is perforated to help it breathe and transfer moisture away from your skin along with the wicking action of the anti-bacterial treated topsheet. The Airzone chamois is seamless and has a 4-way stretch that ensures a comfortable fit.
The Garneau Bib Knickers are Black and come in five sizes from Small to XX-Large. All of the seams are flatstitched for comfort and durability.
Unanswered Question
I'm looking for a good pair of bib knickers...
I'm looking for a good pair of bib knickers that has windproofing in the crotch area. My legs don't get all that cold, but all the summer bibs I have let the wind right through and freeze my junk before anything else. Do these have that, or does it rely on the chamois to do the work? Thanks!
I got these knickers for fall/spring riding when it's too warm for my PI Amfibs but too cool for shorts. I wish they came with a no chamois option so you could wear shorts of your choosing underneath if you wanted like my Amfibs do. I probably would've kept them if they did. The chamois was just too uncomfortable in the crotch. It felt like my fellas were being squeezed a bit too much and not in a good way. I bought according to the size chart and everything else about them fit fine. 5'8, 32 inch waist and bought a small. The straps were comfy and the leg grips were as well. Maybe with a bit more use the chamois would break in some but it was just to uncomfortable to try. I returned them without riding in them.
Great knickers after sorting out the right size
Are these bib knickers what I'm looking for?
Great knickers for riding in cool or cold weather. The whole garment is made from a brushed, fleecy material that stays warm and dry during and after exertion. The knees are also covered with a wind and water resistant material. Seems effective. Below the knee they have wide cuffs (no gel-like grippers) that do all right holding things in place, with some minor bunching at the joint. The cuff makes this knicker a little longer than, say, the Gore 3/4 knickers. But I prefer that for the cold weather. Obviously, they won't feel like your second-skin summer suit when you're out of the saddle or pinning it on a long climb. But summer is over for the year.

How's the insert?
This is a good insert, better than many I've tried at this price range. It's not Garneau's top of the line pad. But it's shaped well, tapered at the edges, perforated for helping evaporation and, most importantly, sports a multi-density padding that really does work on longer rides (which some others claim about their inserts but in practice isn't true). It's substantial and comfortable and keeps protecting pressure points after the miles start ticking off.

Is the sizing chart right?
Believe it or not, yes! Now I can say I own well-fitting cycling garments in sizes small, medium, and large. Euro sizes are well known to run small for physiques of the Americas. But I can't tell you why Garneau would take it down not one but two notches from there (Are we North Americans getting that chunky?). I'm just over 5'9" and weigh just under 160lbs - pretty average/medium. For brands like Castelli and Giordana, I wear a large for both jerseys and bibs. However, the bibs I own from Gore and Pearl Izumi fit right with a medium. But when I flipped my nose at the Garneau sizing chart and got the mediums for these knickers, I paid the price and found myself with something baggy in the crotch, long in the legs and loose in the straps. I have a 32" waist. The Garneau sizing chart tells me to get the smalls. I finally did and they fit great.
Great fall/winter knicker
This one is great! brushed inside and really keeps you warm. Very wind resistant with one band around the knee that is (i think) wind proof, so your knees stay warm. The chamois is top notch! Very comfortable without bunching up at all.

I usually wear an XL, so I purchased that size. I guess on the Louis Garneau I'm on the small size of XL, as they are a little big, but not enough to trade sizes.

Overall, a great knicher with an awesome pad.. i can recommend these.