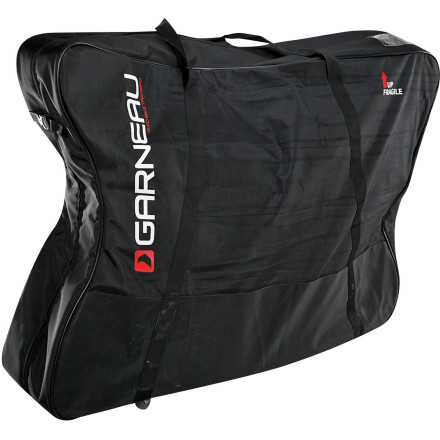 Detail Images

Community Images
When it comes to traveling, cycling presents distinct issues -- especially when you're going to catch a ride in a big aluminum tube. Baggage handlers don't exactly have a reputation for being gentle, and when you place your prized, and fragile, road bike and race wheels their hands, you're gambling against the odds. Louis Garneau, however, has a clever solution to flying with your bicycle, the AWD Bike Transpo Case.
This bike transportation bag features an adjustable aluminum frame that supports and protects your bike. It's been designed with road and triathlon so you can rest assured that your bicycle will arrive at its destination without any hassles. Removable wheel bags allow you to carry and protect the most delicate, and expensive components.
For durability, Louis Garneau uses a 1680D nylon fabric that resists abrasion and tears from being loaded and unloaded at airports. Straps and multidirectional wheels mounted fore and aft roll smooth over a variety of surfaces to ensure transportation is easy.
Louis Garneau does not recommend using the AWD Bike Transpo Case with mountain bike. It weighs 17lbs without a bike, and measures 44in long, 34in high, and 12in wide.
I travel quite a bit, and had no end of trouble renting decent bikes at various places. With a hard case, you are going to be overweight and oversize, which is a double charge on a lot of airlines. I ride a Giant Escape Composite 54 cm, which is a 20 pound bike, so the combined weight of the bag and the bike is 37 pounds, leaving plenty of overhead for tools and accessories. It's a flat bar bike, so I take the bar off and strap it sideways. A bullhorn would fit without removal. Maneuvering this around airports and hotels is a joy. I've taken this on international and domestic flights and the customs folks have said they wished all bike bags were this easy to handle. I use pool noodles on the frame parts, but the bike is well protected between the padded wheel bags. The attached picture shows the bike locked into place on the skewers, and the zippers close snug when the bag is closed.
Is this a full hard shell case?
Is this a full hard shell case?
This is not a hardshell case. It's a padded nylon that zips up around the bike.
This bag its suck a helpful thing to have while traveling. It is easy to carry with some room for your shoes or what ever else. The only problem I ever had with it was with a zipper but that was easily fixed with some pliers.