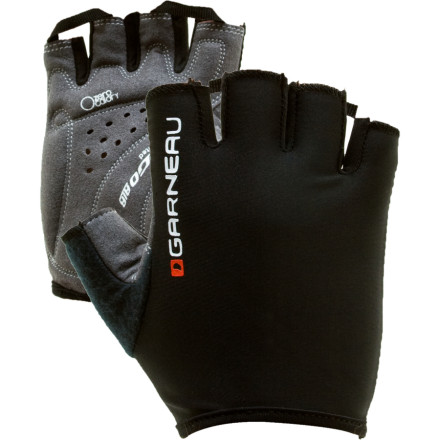 Detail Images
Suit up with the trim and functional Louis Garneau Men's Zero Calorie Cycling Gloves for your weekend group ride. Breathable backs keep you cool while foam padding across the palms offers a respite after white-knuckle downhills with the pack.
Padding on palms offers a little cush on long rides

Synthetic, suede-like palm fabric is durable

Ergo AirZone back is very breathable to keep you cool on hot days

Easy on-and-off puller tabs

Very good gloves!!
Familiarity:

I've put it through the wringer
The gloves wear and wash great, I train and race in them. The LG-name wears off quickly, but not a bad thing if your sponsor wants you in different gloves :-)
the best
Familiarity:

I've put it through the wringer

Fit:

True to size
these are my favorite cycling gloves (and i've tried many from all different price points). fit well, protect the palm, and can't beat the price! I'm on my second pair and will be getting more
Great gloves
Familiarity:

I've used it once or twice and have initial impressions

Fit:

Runs small
Helped a ton. Great value. I have large hands for a woman, and was worried about the size based on the reviews. I ordered a Men's L and they fit great.
Good for the cash
Familiarity:

I've put it through the wringer

Fit:

Runs small
For the money, it's hard to get a summer short-fingered glove that's better. The palm padding is decent - and better than my Gore winter fingerless that cost 3 times the price. Downside is that there's no towelling or fabric on the back to wipe away sweat, and they do come up smallish so you might consider sizing up. I've had them a month and they've been hammered, standing up well so far but I doubt they will last more than a year. But for the money you could buy multiple pairs and still be happy.
Louis garneau
Familiarity:

I've used it several times

Fit:

Runs large
I love this gloves. There are so good.
good cheap fun. size up
Familiarity:

I've used it once or twice and have initial impressions

Fit:

Runs small
These are fine for a basic glove for cheap. I got the medium and they were too tight (I have other LG gloves that are medium and fit fine), so you might want to size up.
If I measured my hand to be roughly 20cm,...
If I measured my hand to be roughly 20cm, should I go for small or medium?


When it comes to biking gloves, I'd size down. They're stretchy enough to accommodate a hand that's slightly too large, and if you get them too big there will be uncomfortable wrinkles.
I have the L.G. Nimubus gloves (woman's), measurement put me at a 'M', they are very, very snug, also...just a pain to get them off after hands are sweaty & swollen! Am looking for another pair with better gel padding, and will probably size up this time. Guess it's just personal preference.

But I would recommend the L.G. Nimbus gloves; or the L.G. Air
Nice looking gloves, nice fit and great value. Durability to be seen.
Just to bring to everybody's attention that White Gloves after the first wash ( even in cold water) will adsorb a black color from the leather. Red and Black color are much more durable.
Gloves fit really nice. Light weight and I love the straps that help in removing the gloves.
Would recommend them.
perfect for price / comfort / function
cheap. soft and lightweight. I normally get a small or medium in gloves, depending on brand. I like gloves to be tight, it annoys me when gloves are too big and bunch up in the palm area. I ordered these in small and found the fit to be perfect. they were my first gloves with finger loops, and once you use the loops, you may not want to go back. easy to get off, dont get in the way of your fingers during use. As one reviewer stated, these are not body armor. they are pretty thin, and felt great during warmer rides. The printing on the knuckle area started to wear / crack after a few months of use, but is still there 6+ months later. I found a size XS pair on clearance at a LBS and got them - they also fit well (my hand measures about 7-7.5in in circumference). They arent as flashy as some of my more expensive gloves but I like them just as much. the terry cloth thumb area wipes snot as good as any other.
Quality control must be lacking
Great gloves. Fit was nice, but sadly the one glove had no padding in the palm while the other glove did... odd oversight. Someone at the factory must have been out late the night before.
You get what you pay for with Louis Garneau. I really liked these gloves and you can not beat the price. But I used them for the first time and washed them in a net zip bag on delicate in cool water with a little Tide with my road kit after my ride and the entire tub of the washing machine suddenly filled up with Kingsford black water. My custom club Hincapie kit survived, but the white Louis Garneau gloves came out a gray cammo/tie die/jaguar spot mess, with black, funky die water oozing out of the palms after several washings and soaks in an effort to save the white, lycra backs. No luck. Got about 80% of the spots out, but still perma-stained for good and ruined. Too bad. Once the freaky pull cords were snipped off, these seemed to be great mitts. I have other LG gloves that have never done this. Bad dye job with cheapeau Garneau water-soluble inks. Buy something else...
Found a new favorite - at last
My favorite gloves are no longer made. My last pair developed a tear that has finally ripped to the point of no return. While trying to find a new comfortable glove, I bought two different types of Izumi gloves and one other type of Garneau before trying the Calory glove. The other three averaged $30/pair. None of them compare to the comfort of the Calory glove. I like this glove so much I just ordered three more pair.

Anyone want to buy a couple Izumi and one Garneau with very little use? I won't be wearing anything but the Calory for the near future.
feel good gloves at a kool price,,you will always want those pull off loops from now on
This is my first venture into using cycling gloves and so far I'm happy. I've only been on a couple (less than 10 mile) rides with them but the fit is good, the extra padding is nice, and, even in 90-95 degree sunshine, I didn't feel like my hands got too hot and sweaty. Oh, and the little finger pulls make it super easy to yank them off when the ride's over.
Minimalist gloves defined. Slip them on and forget them. Light padding and lightweight (good for Florida heat). Bought a few pair and they've held up well. The back panels are just thin lycra and useless for wiping anything. That said, I love 'em.
Great Gloves; Great price
These gloves meet my two most important tests

1. No velcro
2. Not much padding

The gloves win on both of those accounts. I bought multiple pairs of these and I'm very happy that I did.

I've ridden a few times with one of the pairs and have found them to be quite comfortable. As another individual pointed out, they do run a bit small. I have had other gloves in a Medium (older Adidas like the T-Mobile team used to wear - I bought a bunch of those cheap!!) and others in a Large (Giro long finger). I sized up to the large with this and I'm very glad that I did. There is no way that I could have worn the medium.

If you like simple / minimalist gloves then these are for you and they are a fantastic price - except for those Adidas ones that I bought ;-)
Minimal glove, just right
These run just a little on the small size. It isn't because the size chart is wrong. I am on the outside of a medium.
I like the backin very thin and light, simple. There is some padding on the palm, no too much. The only miss is very little terry to wipe snot or sweat on the thumb.

Very good glove for the price. They have a very close personality to the old Castelli Simple glove. You can't go wrong of rris price.
They're great gloves. Great price.
Bought a pair and love them 'Nuff said.

Ride on