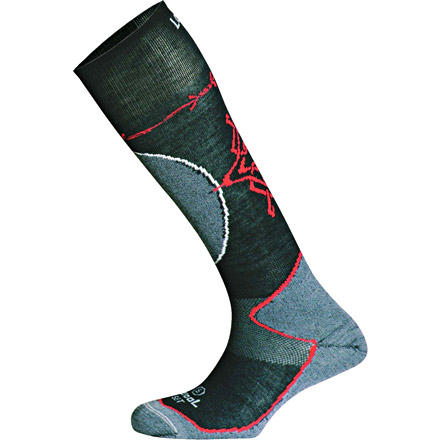 I have a variety of lorpen socks and these are BY FAR my favorite. The merino is really comfy. Some of the others have a weave that starts to itch or irritate my feet on long days or hiking/touring, but not these. Wish there were some Mediums left in stock! I recently tried out some other brands and still not as good as these. Padding is for suckers. These are the perfect thin layer of comfy merino.
Ive been really happy with this sock. Ive worn them without another sock layer in some single digit temps and my feet have stayed pretty warm. I got them over at SAC and they are definitely worth it at that price, I would have a hard time paying full price though.
Good sock. Could be a bit warmer, however it was second day of use without washing and like 0F out. Sturdy, supportive and did not smell. Give it a 4 only due to price
These are great socks! The first concern I had was whether these would tolerate machine washing & drying because I find if I have to handwash things, eventually they don't get used as much and I might as well not even own them. These seem to survive, wonderfully! To top it off, they keep my feet toasty and they don't cut into my calves due to being too narrow. I have one pair and plan to buy some more RIGHT NOW.
Superlite Merino Wool Ski Socks
These are great wool socks for people who like to wear two pairs of socks with one pair over their calf to their knees. They are great on size!! and length!!! I am tall (201 cm)with long legs (inseam 36, USA) and my feet are size 14 (USA). Finding over the calf in size 14-15 is very difficult for me. Finding the Lorpen was a god send and in fine merino wool too. Have been wearing these socks on backpacking trips lately and they are holding up well. Now looking forward to wearing them this winter with telemark ski boots. I buying another pair, maybe 2 pairs, with my next major purchase.
, ☃bcs_badge_alumni_label☃
greatness for your feet
These are great! They keep your feet warm with out needing a massively thick sock. Merino wool is just amazing and everyone should own head to toe merino wool. If it is a hot day these socks will keep you cool, cold days they will keep you warm. You will love these and end up wearing them daily