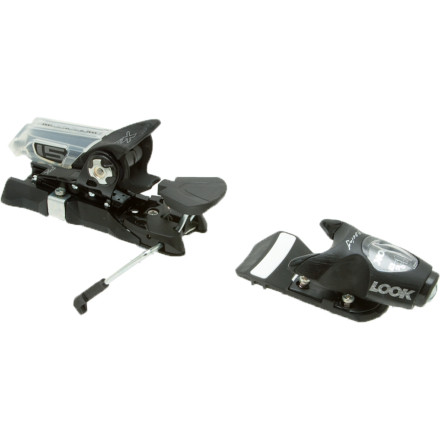 Detail Images
Unanswered Question
Considering these for a 09/10 Volkl Bridge....
Considering these for a 09/10 Volkl Bridge. I bought these skis because I love the all mountain feel of the ski and the tail is hella fun. I am not using the ski or binding in the park. I like to charge hard truly all over the mountain.

My question is wether this binding will affect the flex of the ski in a negative way? This seems like a great deal on a DIN 15 binding and would rather put money toward my pass if I can go without the more expensive Markers.

Thanks
Can you get a wider break for this binding?...
Can you get a wider break for this binding? - I need 120 mm.
I saw your question and I have the same problem. Have you found any brakes yet?
If you need a 15 DIN binding but don't want to spend full retail on a Pivot/FKS binding, this is a great alternative. It uses the same toe piece as the Pivot/FKS 18 binding (but with a 15 DIN spring inside). This gives you a very wide AFD, and a low profile toe mount. What you do sacrifice is significant, but not too detrimental. The heel piece is much longer and sits much hicher off the ski than the Pivot series. This means that you feel a little more binding and a little less ski under your foot. This also means that you lose the pivot feature of the heel, so the release is not quite as natural. You do gain the ability to adjust the binding about 2 full sizes on the fly, which can be a good bonus.

After 3 years of use mine started getting really wobbly on their mounting track, although that wobble is really only noticeable while I am not clipped into the ski..not sure what the deal is.

A note about the 100mm brake, your shop can stretch it to fit skis up to around 125mm wide..so don't worry too much about that. Also, if your ski is only 85mm underfoot, 100mm still works fine!
I've been skiing with these bindings for two seasons now and they are great! They have never come off when they shouldn't have. Even when dropping cliffs 60'+!
Look PX 15 FS WB Ski Binding
Way to heavy for a 15 DIN binding. Spend a couple extra dollars and get the FKS/Pivot 14 or 18, you will be stoked.