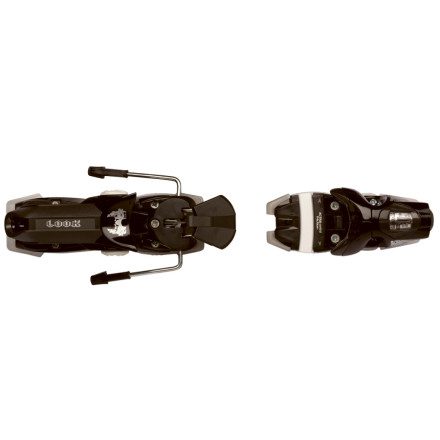 If you daydream all summer long about perfecting your tricks in the park or pipe, or simply live at the water-ramps, the Dynastar PX 12 Jib Micro Heel Ski Binding is the vanilla-covered icing on your twintips. A 3mm shock-absorbing platform deadens high-speed chatter, and the elastic travel of the Look PX heel piece stretches to absorb impacts so as to soften your landings.
Seven points of contact between binding and boot give you a superb feel underfoot and more control and accuracy when you maneuver through trees or down steep chutes and play in the park and pipe
Turnable heel lets you pre-release when you should and keeps you in when you shred a hairy line
A shorter mounting zone (where the binding is screwed to the ski under the boot instead of in front of and behind it) allows you to ride lines and spin tricks that demand the most flexibility out of the ski
Titanium construction reduces weight and increases overall strength of the binding
What do you think about this product?
Have questions about this product?
Anyone know if the 120mm brakes are...
Anyone know if the 120mm brakes are compatable with this??
there is a single smooth indent on the plastic heel step on the brake (its in the middle of the heel pad). The heavier race heel piece's use a brake that has a horseshoe shaped indent on the heel pad. make sure they match and you will have the right fit. They do not interchange.
how is this binding different from the...
how is this binding different from the dynastar px 12 lifter legend?
Best Answer
The binding itself is the same. The difference will be the lifter that comes with it. The "jib" version will sit lower on the ski. Across the board, Dynastar, Look and rossignol all have the same bidings.
i think you are slightly wrong on this one. this binding has a shorter heel piece hence the name "micro heel". it is the part of the heel that actually interfaces with the ski. this most likely results in less adjustment for different size boots but it does create a smaller dead spot (area where your ski cannot flex)
is the look PX 12 jib Micro Heel ski binding...
is the look PX 12 jib Micro Heel ski binding good for jumps and rails in the park
hey my friend is wanting to buy look PX 12 jib micro heel ski bindings he is getting the K2 silencers skis that are 119 by 85 by 109 will these binding work for him?