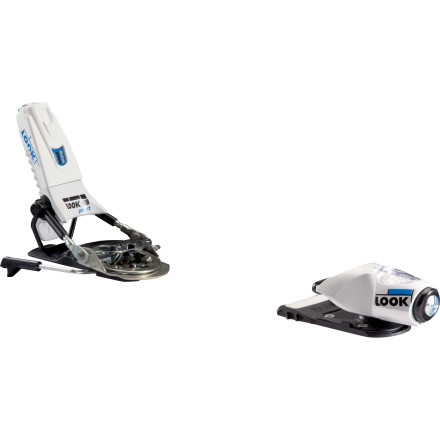 Community Images
Description
The binding of choice for burly freeriders.
The last thing you want to worry about is walking out of a ski when you're center-punching a rowdy line, which is why freeriders the world over drill the Look Pivot 18 Binding into their boards. With a rugged metal housing, DIN that goes to 18, and timeless Pivot turntable heel piece, the Pivot provides unmatched retention, with a ton of travel to keep you from ejecting until you absolutely have to.

DIN range from 8-18
Pivot heel piece
Race toe
All-metal housing
Best alpine binding on the market
Familiarity:

I've put it through the wringer
Change is scary for me, so when Rossi took these off the market a few years back, I freaked. Due to the collective panic among freeskiers, they brought em back, and they're as bomb-proof as ever. Sure they're heavy, but I'd rather have a binding that lasts forever than a piece of plastic junk that could fail unexpectedly. Bang them up all you want, it won't alter their performance. Think of it as an investment. You can keep swapping these out, long after you've destroyed they skis you mount them on.



I mount these on all my skis, besides my touring setup. I'm anxiously awaiting the day when Look/Rossi designs a touring capable binding with a pivot heel...Are you listening Rossi?! They won't release unless you absolutely need to, no matter what you set your din. Get them and put them on everything.
Ride em hard, they like it.
Never worry about a twisted knee again
Familiarity:

I've put it through the wringer
I have been skiing this binding and the Rossignol FKS model for the last 8 years. From my experience this binding will always release when you need it to, and will never release when you don't want it to. No one likes pre-releasing when charging through variable conditions at high speeds. This binding will ensure you stay connected to your boards unless you absolutely need to come out. When it does release it releases instantly and never hesitates.



What drew me to this binding was how solid the construction was. After skiing several other bindings on the market, and destroying all of them within a season or two of riding, I decided to give these a go. With the full metal construction these bindings are bomber. That's right, huck all you want, gaps, large drops, park jumps, and anything else you fancy and this binding will take the abuse and ask for more. I have one pair that is well past the normal life span of a binding and it still works exceptionally well.



The main drawback to this binding in the 18 din is the weight. However compared to other all metal bindings on the market this is as light or lighter weight than the comparable competition.



Keep in mind that the 18 din toe is all metal and only releases on each side. The 14 and new 12 din bindings have a plastic toe making them lighter and allowing for a vertical release option as well.



Another thing I love about these bindings is how low to the ski they allow your boot to sit. I find this helps with balance and makes the skis feel as though they are connected directly to the soles of your boots.
The 360 degree pivoting heel piece allows them to very smoothly release when you need them to and hold you in when you need to be held in.

I usually ride these in the park at a DIN of 13. If I land straight and want to be held in I will be held in.



Video:

I threw that 7 a little wrong and came up a little bit short. My right ski tip actually hit the knuckle of the landing. Instead of twisting my knee all weird, it release so smoothly that I still landed it with one ski on.