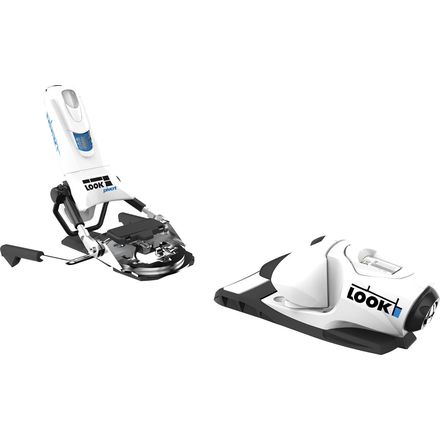 Description
Look, a legend!
For years, the Look Pivot bindings have been the clamps of choice for skiers who like to push the limits in serious terrain, and the Pivot 14, while lighter and slightly less rugged than the 18 DIN version, is still one of the burliest, most reliable, and most powerful bindings out there. While the 18 is entirely metal, the Pivot 14 uses some tough-as-nails polymer in the heel and toe to cut down the weight while hardly compromising power or durability, and employs the same world-famous Pivot heelpiece for power transmission and consistent release. The heel boasts 28mm of vertical travel to prevent unwanted release which, combined with the 45mm lateral travel of the Full Drive toepiece, lets you set your DIN lower without compromising retention power, so your skis will stay on through heavy impacts and strong torque but still release before your knee ligaments do. With a DIN that goes to 14, the Pivot is strong enough for all but the burliest skiers and has enough brake widths for most skis, making it the ideal choice for big park hits, serious lines, and high-speed pow shredding.

5-14 DIN
Turntable heel
Full Drive toe
180-degree multi-directional release
27mm vertical heel elasticity
45mm lateral toe elasticity
Short mounting zone
Hi,

I am looking to get bindings for the women's 2015 Rossi Savory 7's. They are 106 mm underfoot. What size binding do you suggest? I'm interested in the Look Pivot 14's, but if you have any other suggestions, that would be great! Thanks!
Hey Ashby,

The Look Pivot 14 with the 115 mm brakes would be a great choice for your Rossi Savory 7's. Feel free to contact me directly with any additional questions about ski gear.

Kyle L. - Expert Gearhead
For a 120mm waisted ski, should I go with the 115mm or 130mm brake?
Best Answer
Hey Jesse,



I would recommend going with the 115 mm brakes and bending them to fit your 120 mm skis. Feel free to contact me directly with any more questions.



Kyle

Expert Gearhead

klivingston@backcountry.com

801-736-4337
Are these the 2015-16 model?
Best Answer
Hey Creighton,

These are going to be the white 2015-2016 model. We are working on getting the photo fixed.

Ben