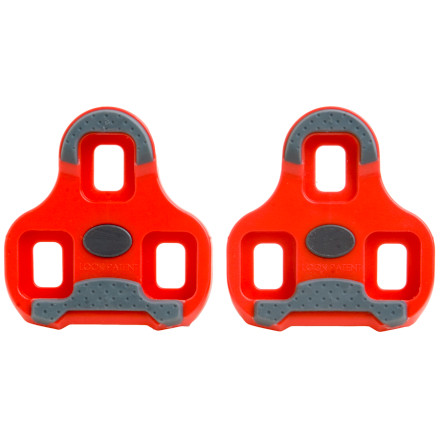 Detail Images
Description
Neat cleats.
Cleats are one of those bits of kit that get overlooked, but Look's new Keo Grip Road Cleat is tougher to ignore than most. It has several obvious upgrades over most cleats, most noticeably non-skid rubber pads underneath the fore and aft portions of the cleat, but it's the unobtrusive central pad that's most exciting. Look calls it a Memory Clip, and it locks into the center groove found in many new cleats for secure attachment and easy replacement.
To suit all riders, the Keo comes in three versions: zero float (black), 4.5-degree float (grey), and 9-degree float (red). Each offers 4mm of lateral adjustment and 9mm of longitudinal adjustment, and comes with all the necessary screws and washers for easy replacement.
Plastic
0-, 4.5-, and 9-degree float
Lateral and longitudinal adjustment
Memory clip
Non-slip rubber pads
Compatible with Look Keo pedals
Longer lifespan for your cleats
Familiarity:

I gave it as a gift but have feedback to share
I bought this for the hubs. Here's his review:

The Look Keo Grip is really the way to go. I've spent more than my fair share of time purchasing the non-grip cleats (because I'm too lazy to get on-top of online preordering). The non-grips work well, but you do slip, obviously, and they wear extremely fast due to ground contact and stepping patterns. The grips remove most excess wearing from the cleat so they last longer. With grips, you'll need to practice fast clip-ins if you are concerned about race holeshots since they do sometimes catch in the pedal snaps, but it's not a heavily noticed issue.
Helps with removing play
Familiarity:

I've put it through the wringer
I've fitted lots of people and these definitely help with the amount of "play" you can develop with the non gripper cleats. Yes these cleats wear out and develop play but they do a far better job than most at eliminating excess. All in all a solid buy.
Warning: The grip can get loose
Familiarity:

I've put it through the wringer
Be careful of the grip version of Look cleats. I have had the grip come loose with time. The little piece of rubber then interfered with me clipping back into the pedals (quite frustrating). This happened with the toe grip on left cleat which is the grip that is most likely to touch the ground when waiting at a light. Took me a while to figure out why it was happening. Anyway, I went back to regular "no grip" cleats. If you really want to walk in your cleats then I would suggest getting the cleat covers.
Having never used cleats befor do you need...
Having never used cleats befor do you need to change pedals / do you need to have shoes to match cleats / do you need to have cleats for shoes as you can see I am a new at this
Best Answer
If you are making the switch from flat pedals to clipless pedals, you will need to make a full package jump. You'll need shoes that work with the particular pedal you choose (typically either 2 screw MTB cleats, or 3 screw Road cleats). The pedals come with cleats, so you with shoes and pedals you should be set. Please give us a call or chat in and we can narrow down choices and answer technical questions more fully.
How do you decide what degree to use?
How do you decide what degree to use?
Best Answer
"Float" is how much your foot can move around before the pedal unclips from your shoe... This is a matter of preferences, but honestly it's also a matter of conditioning: you'll simply learn where the edge of the float is.



I think you'll find that most recreational riders use 5 degrees of float... and that's what I'd recommend.
Takes the S out of slip :)
Familiarity:

I've put it through the wringer
Have been using Look pedals for years now. So glad they came out with this cleat! They work great - and as simply stated = no slip :) When coming to stops, taking your foot out of the pedal and bracing your foot to slow down - if you are still moving a little (as we all are) the standard Look cleats will slip out from under you, yikes. Can you say 'do the splits?'! So that said, these are a great upgrade for any Look pedal user. Same wear as the standard cleats; simply put - safer and well made. Additionally, these come with a small clip that fits snugly into the belly of the cleat; most of my friends do not know what this is for. It is specifically designed to work with Sidi Shoes. When installing these on a Sidi Shoe, there is a small phillips head screw that secures this little tab in place to the shoe - securely attaching the tab ( see Competitive's Sidi Shoe description, you can see the sole of the Sidi shoe, and the center channel where this attaches). This tab works awesome; because once you get your cleat position perfect; tighten this and leave it. So next time you change your cleats, you just place them over this tab, and whalah - perfectly in place without any tweaking! * see attached photo. So, take the risk out of slipping and taking out a riding buddy at a stop domino-style; or making a pit stop for a nature call and sliding out in over-sprayed whizz :) Get these, they are a necessity :)
Matched the grey cleats with my Look Keo 2 Max pedals and love the system. Put 1,000 on the cleats/pedals and have been very happy. LIke the added grippiness of the cleat for stops at the local cafe. Haven't had any issues with noise or squeaking like I had on my previous Look pedals that were 10 years old. Probably should replace these at the end of every season.
tried these in the red version because it seemed a good idea/improvement (better grip and less wear) over the regular version keos but they squeak annoyingly when there is a little water/moisture present between the cleat and the pedal contact area. Going back to the regular version keo because of this issue and plus they cost more than the regular version keo.
Write your question here...what does degree...
Write your question here...what does degree float mean
Best Answer
Float is how much movement the pedal is allowed. In other words, a pedal with 9 degrees of float, will be allowed to move 4.5 degrees from center, in either direction.

Float helps people with bad knees, or foot alignment, since it allows the foot to "float" on the pedal a little bit.
Red and White Version is Better
The grip on these is indeed great and they'll probably last longer than the red & white version but the feel is off and they're squeaky. The white resin material gives a much much better feel in the pedal. I've got 250 miles on the red grip cleat and I'm gong back to the standard red & white keo.
The Look Keo pedal and the non-skid cleat are an exceptional combination. The Keo cleats are stiff and strong and have a very low profile that looks a lot less goofy off the bike than a spd-sl. If you already have a Keo pedal and don't use the non-skid cleat yet give it a try. When you get off your bike with jello legs the last thing you need to worry about is sliding on the floor on the way to your barstool. Use the Keo cleat covers if you walk at distance because the grips on the cleat do wear fast on concrete.