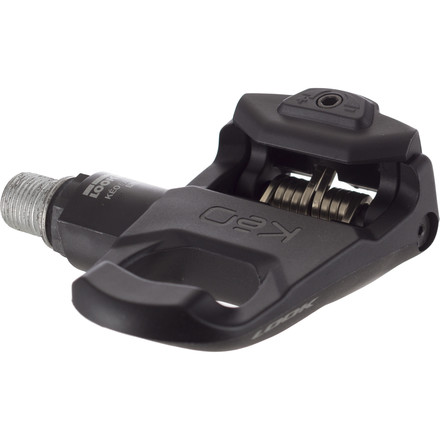 Colors
Description
Made by clipless experts for clipless beginners.
Look's clipless pedals have won pretty much everything there is to win, but that doesn't mean the company only makes $600 carbon-fiber pedals that you have to be a hero to ride. The Look Keo Easy Road Pedal distills Look's best clipless technology down into a simple, reliable, and durable package that's perfect for riders looking to get into clipless, and good enough for experienced cyclists who don't want to spend a month's rent on something as boring as pedals.
Look didn't try and get too fancy when designing the Easy Road. It made the body out of strong, light, and affordable composite, the axle from durable and corrosion-resistant stainless steel, and the platform big enough to provide support for those used to riding flat pedals. The included Look Keo cleats provide 4.5 degrees of float, which strikes a perfect balance between retention and an easy release, and can be replaced by cleats that provide more or less float, depending on your preference.
Composite body
Stainless steel axles
Look Keo cleats included (4.5 degrees of float)
Will these work with GIRO shoes? (Territory)
they will work with Mavic road shoes yes, feel free to contact me with question on any shoes kylebrown@backcountry.com
This is a great entry-level pedal as it has a wide base for good power transfer and is easy to clip into and out of without the hassel of adjusting the tension: there is no adjustment. That said, I did not pop out when I did NOT want to and always clipped out when I WANTED to. Get the rubber cleat covers (that's the thing that screws to your shoes) as you will wear them out quickly walking without them. I used these for 2 years of hard riding (4000 miles) before I upgraded. Not used a "clipless" pedal before? Get this one. You'll like it.
Can you adjust the tension on this look...
Can you adjust the tension on this look pedal?
No; these are not adjustable. Look at the LOOK Keo Plus or the Classic if you want adjustability still at a reasonable price. However, LOOK got the tension pretty right-on for newbys not used to a clipless pedal.
Hi I'm looking for my first pair of clipless...
Hi I'm looking for my first pair of clipless pedals/shoes and was wondering if these work with the Northwave Vertigo Pro SGS shoe? I am under the impression that LOOK uses the 3 hole design which the shoes use.
If so what type of cleats would I need- or what kind are included?
Thanks!
Yes, these pedal/cleats are compatible with all three-hole shoes including yours. They come with Look Keo cleats.
There are two cleats available for "float" of the cleat in the pedal: the medial-lateral play, or in and out of your heel. The pedals come with a grey (6 degree of float) and you can get aftermarket red (zero degrees). Most people will want some float in their cleats. The grey ones are the ones you want for now and are available when you wear them out. Get the rubber cleat covers. Makes them last a LOT longer.
Do these pedals come with cleats, or do...
Do these pedals come with cleats, or do the cleats have to be purchased separately?
, ☃bcs_badge_alumni_label☃