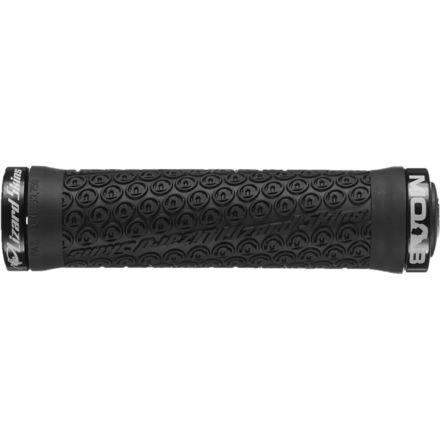 Description
Sticky grips for slick rock.
Inspired by Utah's Delicate Arch and benefiting Moab Trails Alliance, the Moab Lock-On Grip from Lizard Skins reps the desert hard but is ready to ride anywhere. The rubber surface provides plenty of purchase whether you ride with gloves or bare hands, and the aluminum clamps keep the grips from twisting as you ride or slowly sliding off the end of your bars.
Rubber grip
Aluminum clamps
130mm width
31mm width
Part of each sale benefits the Moab Trails Alliance
get a grip
Familiarity:

I've used it several times
As far as I'm concerned, grips are grips and they work if I don't notice them. I don't notice the Moab, plus part of each sale benefits the Moab Trails Alliance. Do your grips do that?

I do also like the the Extra Chunky ESI grips when not rocking gloves.
Too hard
Familiarity:

I've used it several times
I didn't like the harder compound.

Great quality, just too hard for my liking.
Lock- On Grip Instillation
Awesome!
Familiarity:

I've used it several times
With the stocks grips on my bike my hands would get sweaty and would slip a lot. I started wearing gloves but on hot summer days that would get uncomfortable quick. I decided to try these out and I'm really glad I did. They are super grippy even with sweaty hands. They are fairly soft but not squishy. I will definitely be gets more of these for my other bikes!
Love these grips. I like a nice minimal/thin grip, but my big fat hands are a little too big to use the thinnest options out there. These are a great option for people with bigger hands who still want a fairly low profile grip. Soft enough to be comfy, but not squishy. And super grippy. As long as you find the right one for you, you really can't go wrong with lizard skins grips in my opinion. This is my third set of lock ons from them. Loved all three, only keep getting new ones for new bikes.
Great, flat grip that still keeps your hands comfortable while you hold on.

Frequent Mountain bike use, as well as commuting. Fit great on my handlebars, and haven't shown a slight bit of movement at all. Had them for about a month, love them!