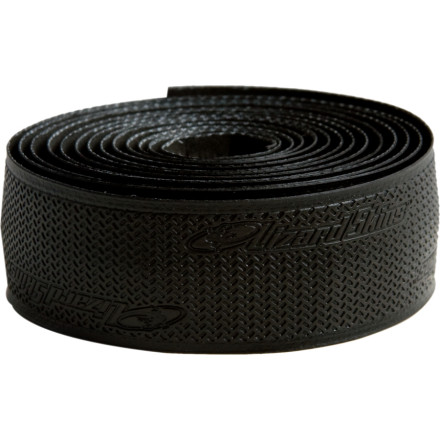 Colors

Detail Images

Community Images
Description
A little more goes a long way.
The folks at Lizard Skins understand the feel of a perfectly padded handlebar — especially for those of us who dislike wearing cycling gloves. The Lizard Skins DSP 2.5 Handlebar Tape offers the same high-tech feel as the 1.8 tape but with 0.8mm more padding to ensure your hands stay comfortable all day long. The tape's unique file tread texture improves grip while allowing your hands to move easily from one position to another.
0.8mm more padding than Lizard Skin's 1.8 tape
File tread pattern
82 inches long
Package includes 2 rolls of tape, 2 bar-end plugs, and 2 finishing strips
Don't Judge Before You Ride It
Familiarity:

I've put it through the wringer
While most know Lizard Skins as a mountain bike brand, this is a legit product for your road or cross bike. I've used this almost exclusively the last couple years for a few basic reasons:
1/ It's durable. More than most any cork tape. Really
2/ It's incredibly comfortable. If the 2.5 isn't your jam, there is a cushier size just for you.
3/ It's easy to keep clean, so you can run the euro white all day long, and your bike will look great.
In short, I highly recommend you give it a whirl. Your bike will look great, and your hands will love you for it.
best bar tape
Familiarity:

I've put it through the wringer
when your bar tape starts to fall of or is just time to change it, you need to pick up this bar tape, not only does it look good, its super comfy, has a lot of padding, and is very easy to wrap on your bars.
Lizard Skin
Familiarity:

I've used it several times
I have been a fan for this tape for some time. It is very comfortable; has excellent grip, and cool colors. Now the negative. It is does not have very good durability; developes gaps; and discolors or shows dirt readily. I have also used Cinelli and Arundel, both of which have strengths and weaknesses.
Opinion has Changed
Familiarity:

I've put it through the wringer
I have been using this tape for years. At first I loved it. I could get two seasons out of it and 10K miles easy. Excellent feel. The last four or so rolls I've bought have been a little short for my Time bars and the tape has not adhered well, gapping on the tops after only a month of use. I think DSP may be using a different adhesive. Disappointed that I have to look for a new favorite tape.
Top layer prone to peeling
Tape feels good but starting peeling fairly quickly in a few months. Google it. Went with Fizik Performance 3mm.
DSP Tape
Familiarity:

I've used it several times
This stuff kicks just as much ass as everyone else says. Super tacky and comfortable. Depending on how you tape it you can keep it relatively thin or bulk up in certain areas by overlapping it closer. I knew it would be the perfect grip for my girlfriends first road bike to help kill road chatter. Mission accomplished.
Comfy, thick
Familiarity:

I've used it several times
The extra padding is nice for riding without gloves, but interferes with the shifters on my SRAM Red levers. Have to adjust the braking to keep the shift levers from getting stuck on the bar tape. Have not had this problem with thinner bar tape.

Had plenty of length to do my bars. Like really plenty, discarded about a foot on each side when I finished, and I use continuous multiple wraps around the brake hoods rather than use the short strip that comes with the kit. Finishing tape is nice, sticky to both the tape to finish it off, and to my hands when riding.

It's sticky, providing a good grip, even with sweaty hands.

I'll likely use Lizard Skins again, but a thinner tape next time.
I just used this tape for the first time and I have to say, it's amazing. It's really comfortable and I love the grip on it. I'll definitely keep using this tape from here on out, I'm really happy with this purchase!
Expensive but worth the price
Familiarity:

I've used it several times
I received my first set of DSP tape as a gift and put it on my SSCX bike. I liked it so much I bought some for my geared CX bike and plan on buying it for my road bike when a change is needed. The tape is tacky, but not sticky and has a great amount of padding for CX shenanigans. Having a plethora of color options is awesome as well. I've only had it on for a couple months, so I can't yet comment on the durability. So far so good.
Best, period.
Familiarity:

I've put it through the wringer
I have used so many different brands and some might be a bit better in one dimension but LS has it all. Tends to last me around 5-6 months per taping (15 hour per week of riding) and is great in sweaty riding without gloves. I did once leave it on and just see how long it lasted and with 15 hours average each week it started to fray around 7-8 months.....pretty decent in my book.
Grippy Comfort
Familiarity:

I've put it through the wringer
Favorite bar tape out there for soft feel and tacky grip. I don't wear gloves when I ride, and Lizard Skin is one of the only tapes I've found that still holds it's texture all the same even when under heavy fire from sweat, rain or other road debris. Only complaint is it gets dirty really fast, especially the white. It looks great at first, but it's so tacky that it does pick up debris really quickly. Fairly easy to clean, but it doesn't really bother me to just replace it pretty regularly. Worth it to keep my ride looking good, and hands feeling fresh.
No gloves, Lots of love
Familiarity:

I've put it through the wringer
I am usually a no gloving road rider. this being said, I am picky about my tape. I want it to last long, have amazing grip in all conditions, and also have a good amount of vibration control.



The Lizard Skin dsp 2.5 is the perfect tape. It handles amazing even in rain and or sweat. It is easy to get a clean wrap. And it is smooth under slight vibration. All around some of the best tape I have ridden!


Comfortable.
Familiarity:

I've used it several times
This tape is great! I've been riding my cross bike with this stuff on for a few weeks now, and I don't wear gloves. Great comfort on long dirt/pavement road rides! Easy to wrap and tons of color options!
Great tape
Familiarity:

I've used it several times
I bought this tape in white and the only complaint I have is that it gets dirty easily (as would any white bar tape). I love it. Great feel, great grip.
Great tape
Familiarity:

I've put it through the wringer
Excellent grip and holding up well to use/abuse, highly rec
Comfortable and looks awesome!
Familiarity:

I've put it through the wringer
Some of my favorite bar tape I've tried thus far. Forgot my gloves on a 50 mile ride and never once had an issue and no sore hands afterwards, I was pleasantly surprised. Maintains color, grippyness, perfect amount of padding without feeling bulky.
Excellent Tape
Familiarity:

I've put it through the wringer
Yes its expensive compared to cork tapes but it will outlast it by far. Have it on both my bikes, excellent grip and damping without overdoing it. I have about 3k on both this season and the tape is still holding up well but will be due to be replaced for next season mostly just to stay looking fresh.
Tacky Grip
Familiarity:

I've put it through the wringer
I've never had better bar tape. This is by far my favorite tape I've wrapped my bars with. The rubber is super tacky and feels cushy. I wrapped my bars back in March and it has withstood the test of wet spring storms to pouring sweat in the summer months. Still hasnt unraveled. Wipes off clean with a rag and some cleaner.



It's a must have if you race.
Nice bar tape!
Familiarity:

I've put it through the wringer
I love LS tape. Has a great tacky feel and when wet I experience no slippery feel to it like some post I have read. The tape goes on eay and while I have used both the 2.5mm thick I prefer actually the 1.8mm thick version. Very durable and if need be no gloves needed. It is a bit pricey but you will be happy with the tape I am sure. Now if LS tape was $20 a pack I am sure LS would sell the daylights out of it. It is consistent in price from one retailer to the next with usually only a $4 variation at best so I assume LS sets a price floor on this stuff. So if your changing out your old bar tape and need a new grip tape try it out.............I am sure you will like it.