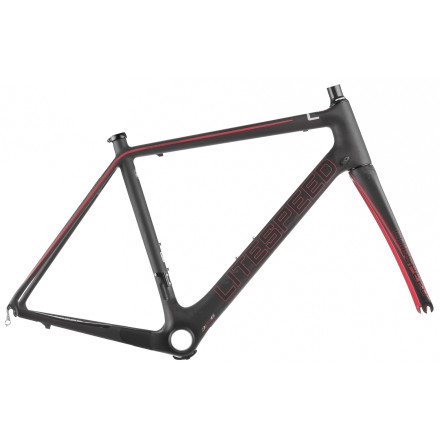 Detail Images
Being at the forefront of the titanium frame revolution would be a benchmark in any company's history, but Litespeed has never been complacent when it comes to innovation. The L1R Frameset marks a new era in Litespeed design, featuring 60-ton carbon fiber, unparalleled aerodynamics, and rigidity unmatched in the carbon aero frame market. The L1R is the flagship of the new Litespeed L-Series, and it's completely UCI legal for hassle-free racing.
The Litespeed L1R is unlike any other carbon frame. Four years in the making, Litespeed utilized its proprietary Continuous Cross-Sectional Morphology technology to create the unique asymmetric and shape-specific design of the L1R. Using a Quadrilateral System, the frame design is meant to manage torsional-frontal and lateral loads. In layman's terms, this means that Litespeed examined the four sections of the frame to manage the stress caused by twisting your weight around. The rigidity resulting from this examination is achieved through Litespeed's own 60-ton aero carbon fork, with a UCI legal 1.125 x 1.5in tapered steerer tube, and oversized aero head tube. Meanwhile, an asymmetric design of the down tube/seat tube junction has been incorporated to promote a direct conduit for energy transfer, resulting in the ultimate in drivetrain efficiency.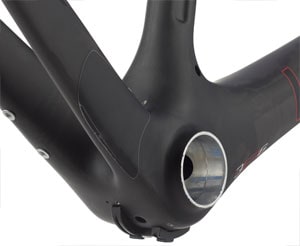 The radical ideas for the new L series forced Litespeed to re-think the technology in its manufacturing process in order to execute the design principles. To achieve the unique L1R shape, Litespeed developed Reactive Pressure Molding, RPM, to create advanced molding techniques that allow increasingly rigid aerodynamic shapes while reducing material weight. Typically, manufacturers use a process called bladder molding to form their carbon shapes. This regimen requires extra filler material and permanent components; all contribute to useless weight in the frame in order to decrease drag. RPM allows precise control of inner wall thickness by using a polyurethane sleeve, and thus makes unique shapes, like the L1R's full-carbon head tube, achievable. Litespeed also made great strides in making the L1R extremely aerodynamic outside of RPM. The proprietary carbon fork has been bladed and bowed to allow a clean airflow over the front wheel. Also new is the advent of the BB386 bottom bracket design. Developed in coordination with FSA, BH, and Wilier, BB386 is a wide-bearing BB30 alteration that increases rigidity while decreasing bearing friction.
The Litespeed L1R Frameset is available in sizes Small through X-Large in the color Black/Red. The L1R is compatible with any 31.6mm seat post, and requires a braze-on front derailleur
The L1R utilizes a 60-ton carbon fiber weave — the lightest and strongest available
Steerer tapers from 1.125-inch to an oversized 1.5-inch tube to keep the front of the bike stiff, while tracking confidently at higher speeds
Wafer-thin seatstays soak up road chatter, keeping your ride smooth
Campagnolo-style Zero Stack headset system helps preserve a comfortable, yet race-ready geometry without the use of spacers
Unique to the L-series, tube lengths and widths are all size-specific for each different frame size, ensuring a proportionally uniform fit and ride quality whether you ride a Small or an Extra-Large
Really impressive frameset
I took delivery of the frameset several days ago from realcyclist.com/competitivecyclist.com and I wanted to clarify that the carbon on the L1R is indeed 60T nano carbon which is stated on a decal applied on the frameset toptube. All the written information I read did not clearly so state. This is a desirable feature as the nanotubes added to the epoxy stiffens the carbon matrix and increases the impact resistance of the frameset as well. I test rode this frameset at Interbike and it was so impressive that I decided to buy one when it came on sale at an affordable price like it is now at realcyclist.com.
Best Bike I've Ever Ridden
I have ridden quite a few bikes. The team I rode for was sponsored by cannondale and then trek. Then I went on my own and rode pinnarello and on a whim picked this bike up. I can say that this bike is by far the fastest bike I have ever ridden. The first chance I had to ride this bike was in Oregon at a training camp and within the first day I could feel it accelerated faster than any bike I have ever owned and is in the same weight range for a lower price tag than any of the other major brands. From the first stroke it feels smooth and fast. Where it really shines is in the seated uphill efforts. It simply puts your power right back into the frame. I noticed a slight increase in watts and in average speed simply by switching frames. In full out sprints as I am a sprinter this bike simply handles power the whole way through the stroke and never feels like it gives out. The best part of this bike is how smooth it is. Even on the roughest surfaces this bike is simply smooth. Riding over cracks and pot holes it continues to be comfortable.
Other than that this bike is incredibly good looking. I have it set up with a pair of reynolds 46, 3t cockpit, and full sram red 2012. It is extremely attractive. It has a classic look to it with a perfect red trim and the size of the bottom bracket is simply massive.
I am not sure why there are constant sales on this bike trying to get rid of these frames but I encourage everyone to give it a try and get your own review on it!
I've only put a few hundred miles on the frame, so base this review on that.
I was leery about Litespeed's carbon frames based on the hard core racers reviews of some of Lite speeds past carbon frames. Then the amazing price made me even more skeptical. Spoke to a mechanic/racer in the area and he gave me the thumbs up to try this one. Took a big risk dropping the dough and its only been payday every since. Thank you Litespeed & RealCyclist.
I wasn't surprised by the amazing acceleration and lighting response I felt when riding this steed; I was surprised by the comfort provided on the longer (60+ miles) rides via 60T carbon; not harsh at all. Handles corners with confidence, and chances down the competition like there's no tomorrow. Complete built up large frame bike weighed a the LBS; came in at 15.02lbs. For a large frame that is super light. And yes, one could shave grams off even more with a good tubular wheelset, dropping the 10 lb saddle I have, or, just ensure your shorter than me, and can ride a small or medium frame. Flat matte finish is a nice touch; not screaming for attention, but makes a point. Be aware though that you can't run a BB30 bottom bracket/crankset with this frame. Do your home work and that's obvious. The good news is that the FSA K-force light EVO 386 is lighter and stiffer than the BB30 cranksets anyway. This translates to even lighter ride, with better acceleration with less effort. 2012 SRAM Red works perfect with the FSA K-force light EVO 386 cranks.
Bottom line, this is a stellar ride. At this price you won't find a better frame. Scoop one up if you can, and then drop the competition like a bad habit on your next local circuit/race.
I am interested in buying this frameset,...
I am interested in buying this frameset, but would like to have the weight verified. I find it hard to believe that this frame and fork weighs over 4 lbs, as you have it posted.
I think those weights are for the L1 and not the L1R. I've searched around and other review sites have weighs published in the 1000gram area.

Still heavy by today's standards of 7 or 8 hundred gram wonderness, but certainly not 1500 as it is listed here.
I purchased an M size frameset recently and had a chance to weigh it. Frame only weight came in at a respectable ~960g and uncut fork was about 445g. Total = 1.405 kg (~3.1 lbs for frameset)