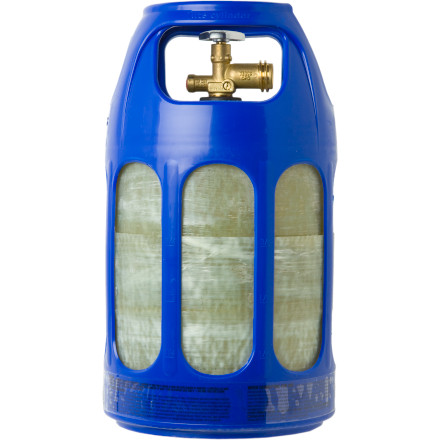 Detail Images
Fire up the grill and whip up a masterpiece dinner. The Lite Cylinder 10-pound Propane Cylinder provides plenty of fuel for many delicious feasts prepared under a blanket of blue sky. You've got the gear, now get cookin'.
Translucent container means you always know exactly how much fuel you have left
Cylinder is 30% lighter than steel and easy to transport so you're less likely to drop it overboard
Cylinder is also non-corrosive so you don't have to worry about rust
Equipped with standard UL Listed Type #1 valves with OPD so you can refill at almost any propane dealer
Share your thoughts
What do you think of the
Lite Cylinder
10 lb Propane Cylinder
? Share a...
Recalled and refunded
Familiarity:

I've put it through the wringer
I give Backcountry 5 stars on this for their perfect treatment of the recall notice regarding this tank. I have several friends who own this exact tank who were so disapointed by the recall, and up in arms about the money they'd spent on it through other retailers. I figured I'd have to go through the hassle of sending it back for a refund when I heard of the recall, but I actually got an email from Backcountry concering this, called them up letting them know I had eptied the tank, and had it disposed of properly at a local propane distributor, and they simply refunded the purchase on the spot.
Kudos to Backcountry, and going the extra mile to keep customers safe, informed, and stand by their guarantee.
Is there enough room to attach a tee and...
Is there enough room to attach a tee and have 2 separate hoses going to 2 stoves?
Yes. A tee or a tree can be attached easily.

Nothing beats the ability to see the level of fuel left before you leave the house , and it's incredibly light.
great price, roughly the same as a metal tank runs
This tank is so nice, at the same price as a metal tank, it's a no brainer. And being able to actually see the propane level in it is the best feature. I won't ding it any stars for it, but the area where you attach fittings is a bit small for man hands, but really not a big deal.
10# tank a must for portable ice house heater
These propane cylinders work great on portable heaters for ice fishing. They are much lighter than steel tanks and you can view how much propane is left in the tank. My son liked the tank so well that he ended up with the first one I bought so I had to purchase a second one. How may times have you taken your tank in to be topped off or run out of propane when you were on the ice. This does not happen any more and I have more than payed for the added cost over a steel tank by not filling a tank that was already half full.
What are the dimensions of this product?...
What are the dimensions of this product? I am on a boat and have limited space.
What other things do I need to connect...
What other things do I need to connect this to my Coleman double burner stove and lantern?
You'll need a regulator and hoses with the proper fittings. These are pretty common Coleman items.
It will not rust. The only metal part on this tank is the brass valve.
What are the actual measurements of this...
What are the actual measurements of this (one size) tank? I have limited space for it on my RV Trailer.
Best Answer
Hey Dominic, the dimensions are 9.25" dia. x 17.25"H.
This is made for vertical use only!
Here some some more specs for you:
Propane: 10.3 lbs (4.7kg)
Butane: 11.8 lbs (5.3kg)
US Water Volume: 2.93 gallons
Service Pressure: 294psi (20.3b)
Proof Test Pressure: 441psi (30.4b)
actually it is 9.6 dia. I have a fibreglass compartment that my old 11lp metal tank fit in but this will not.