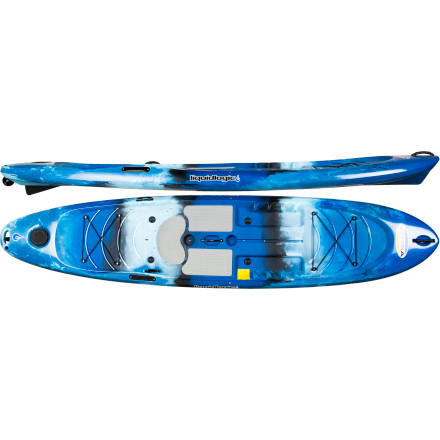 Detail Images

Community Images
Hybrids no long live solely on the road. The Liquidlogic Kayaks Versa Paddle Board brings blended use to the water. This paddle board cruises whether your paddling platform consists of two feet or two cheeks. Stand up for a better view or to cast your fly, or sit down when you want an arm-burning speed workout or are just tired of standing. Padded standing areas give you an obvious idea of where to place your feet when you're vertically oriented, and the sculpted seat also sports a spit of padding when you need a non-plastic place to put your tush.

This playful piece of polyethylene has an upswept, high-volume bow that carries you up and over waves and small swells. Over the water is better than through, since you get a bit of a roller coaster ride as well as staying just a wee bit drier. A recessed deck carves out cargo space while lowering both yours and the board's center of gravity. Lower is lovely as it raises your on-board stability, boosting your paddling confidence. The molded-in seat and sculpted footrests turn this SUP into a SOT kayak just as quickly as you can sit down.
Sliding through class II streams or tracking a tight line towards your favorite fishing hole put different demands on your board. Tracking requires steering, and the spring-loaded skeg gives you the ability to pursue a deliberate and specific path. When you're weaving your way through ruffled rapids, you'll want to raise the skeg for a whitewater-esque approach. The stern offers a bit of dry storage and access to the skeg, in case you need to do a little maintenance. The Tag Along Wheel turns this wickedly versatile paddleboard into a piece of rolling luggage, although it will not fit in overhead compartment on any plane.

Polyethylene hull
High-volume, upswept bow
Recessed deck
2 foam-padded standing areas
Molded-in seat, padded
Spring-loaded skeg
Stern dry storage area
Tag Along wheel
What do you think about this product?
Have questions about this product?
Taken from Liquidlogic's website
Product Info from vendor!
Liquid Logic gives us the rundown.
Can you ride this on the Coast in the waves...
Can you ride this on the Coast in the waves I notice it has drain holes will it cope with waves?
It won't sink, if that's what you're getting at. Should be able to handle a reasonable amount of swell just fine.
The hull shape makes it tough to "ride waves" as they break. I've landed mine in big surf a bunch of times and it can get exciting? I've found that with the skeg down, until the last minute, I have a much more controlled ride. It handles well in big rollers and chop outside of the surf zone.