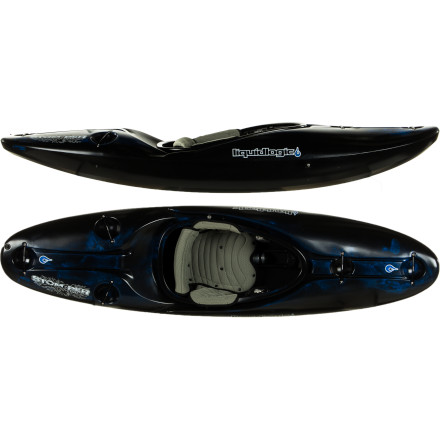 Detail Images

Community Images
Can you hear that scratching noise coming from the door of your gear room? Don't be alarmed—it's just the Liquidlogic Stomper 90 Kayak trying to make its way to the river for big drops and sphincter-clenching-fast water. The Stomper combines the toughness and security of a river-runner with the boofability of a whitewater rig. Lightning fast, predictable in the wash, and easy to flick around when you need to, this boat gives experienced boaters a new tool for crushing creeks.
Tough aluminum security bars, nigh-bulletproof plastic, and a crowned deck make this boat tough as nails and safer should you get in a pin situation
Supreme maneuverability and near-effortless turning deep into turns thanks to the semi-planing hull
Chamfered Edges offer a clean-carving edge that snaps into eddies but doesn't catch or trip you up when you're hit with a cross current
Lower rocker at the stern and Big Bow Rocker in the bow create the unique Smooth Transition Rocker Profile that helps the Stomper pop out of drops without feeling squirrely
Sit in the water with more stability and toss a quick roll as you need it thanks to the rounded sidewalls
New Seat System offers easier and faster access to the stern storage while still maintaining the ultra-comfy Bad Ass Outfitting
One year in my Stomper 90
Some footage from last year on the Deschutes, East Fork Lewis, Quartzville Creek, And the North Fork of the Feather
Unanswered Question
Can I get this in a package , ? meaning ,...
Can I get this in a package , ? meaning , Skirt ,paddle, life vest . helmet ?