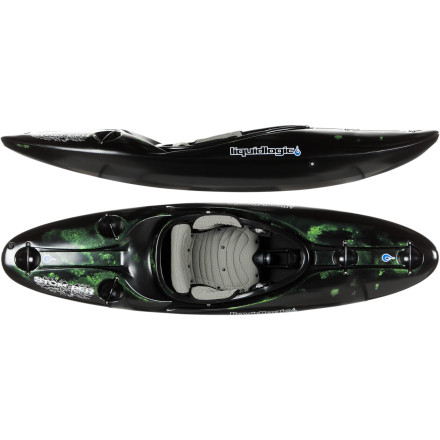 Detail Images
Don't be alarmed if you hear a whining noise coming from your gear closet, it's just the Liquid Logic Stomper 80 Kayak eager to get into fast-moving water with gut-wrenching drops. With the toughness and security of a river-runner and the boofability of a whitewater rig, this boat crushes the creek. Experienced boaters will find that the Stomper 80 Kayak is lightning fast and predictable in the wash, and it flicks through turns with a moment's notice. It's amazing what a little rocker, a semi-planing hull, and an outstanding pedigree can do for a boat, isn't it?
Tough aluminum security bars, nigh-bulletproof plastic, and a crowned deck make this boat tough as nails and safer should you get in a pin situation
Supreme maneuverability and near-effortless turning deep into turns thanks to the semi-planing hull
Chamfered Edges offer a clean-carving edge that snaps into eddies but doesn't catch or trip you up when you're hit with a cross current
Lower rocker at the stern and Big Bow Rocker in the bow create the unique Smooth Transition Rocker Profile that helps the Stomper pop out of drops without feeling squirrely
Sit in the water with more stability and toss a quick roll as you need it thanks to the rounded sidewalls
New Seat System offers easier and faster access to the stern storage while still maintaining the ultra-comfy Bad Ass Outfitting
What do you think about this product?
Have questions about this product?
A boat that lives up to its name
Familiarity:

I've put it through the wringer
Height: 5'6"

Weight: 140 lbs

The stomper truly stomps it's way through even the most advanced whitewater runs. With loads of volume and rocker, soft edges, and the safety features you'd expect in any serious creekboat, it is a boat made for difficult whitewater. This boat turns on a dime thanks to the rocker but is also definitely fast. It's also quick to accelerate - only a few strokes are needed to hit top speed. It fits me very nicely, and the badass outfitting is, as the name implies, bad ass. Not only is it comfortable, it provides very easy access to the spacious back hatch. I find it performs best in the creek environment: it's a lot of boat to handle in less technical big water and in regard to play you won't be doing much more than surfing in a boat of this volume and length except maybe on the biggest of waves or holes. It's also not the most fun to paddle on easier rapids, simply because it is so forgiving. To a beginner this may seem like a good thing, but I'd recommend using a playboat or a free runner instead to form good habits while getting more enjoyment out of your easier runs. Still, the boat rolls easily, has thick plastic, and handles just about anything you throw at it. So, if you're lookin' to creek, get a stomper and get out there!
Stomper overview from Liquid Logic
I have paddled this boat 2 times this spring. it was the first boat I ever sat in that felt great from the first few minutes until the end of a long day on the river. it is fun and predicable and it boofs whithout really trying. I will buy this boat if it takes me 2 years to save the money. and the way things have been going it looks like it will take that long if not longer.