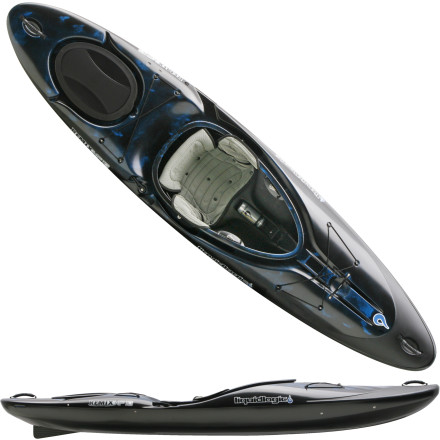 Detail Images
Built to satisfy your speed tooth and gratify your grand touring ambitions, the Liquidlogic Remix XP10 Kayak turns the crossover category on its keel. Spunky colors are only the start of this swift boat. Keen design features instill confidence in paddle puppies and let salty dogs rip down (class III) rapids. Whether you're hot on the trail of a rare marsh bird, trying to time peak run-off for a bit of heady pleasure, or setting out for a tour of sea caves, the Remix XP10 handles it all without batting an eyelash (or paddle).
Polyethylene takes a walk down the runway when it sports sleek lines and sweetly gentle curves. The V up front slices through the flats, and a taste of upfront rockered volume lets you boof with the best of 'em. Twin channels add some steel to the boat's backbone for when you threaten this boat with a rock garden. Soft sides give the XP10 stability and help it roll with ease when the waves play rough. Tired of taking the scenic route? Get out your secret weapon—drop the skeg and take the shortest way (a straight line) to wherever your paddle prefers.

Adjustable foot braces and thigh braces mean long and lanky paddlers and petite 'yakkers alike will find the perfect position. Bad-Ass outfitting keeps your seat and back smiling while keeping you dialed in to whims of the water. The stern storage is a safe place to stow a dry bag for a weekend on the river or just some snacks when the foamy white fun takes more than oatmeal for breakfast. This crossover kayak started as a whitewater boat, took some turns towards a touring lifestyle, and the result is a boat that suits seasoned river rats and novice paddlers alike.

Polyethylene hull
Slight bow/stern rock
V in front
Twin channels, soft edges
Bad-Ass outfitting
Adjustable footbraces and thigh pads
Deployable skeg
Back-lift stern hatch, 4650 cubic inches
Skeg system
Familiarity:

I've used it once or twice and have initial impressions
I had a chance to look at the remix in person a few days ago and was impressed by the way the skeg is deployed/retracted. The knob at the right rear of the cockpit is super easy to reach, and turns about 90 degrees to deploy the skeg. While i could imagine some issues with ice, and i'm not exactly sure whether it is controlled by stiff cable, a cord or something else, the mechanism was incredibly simple. It slid both ways with hardly any resistance. Impressively done liquidlogic.

Besides the skeg, its a pretty skookum boat. Seemingly prepared for most water situations, minus open ocean and huge water and packed with features. A very well thought out boat.

And the green is Awesome.
my friend has the Jackson Rogue 10 and i...
my friend has the Jackson Rogue 10 and i am wondering if i can keep up to that boat with this boat on lakes
If you've got the paddling skills of your friend, you'll have no problem keeping up with him/her on the flats in this boat. You might even beat him/her- the skeg is a huge advantage with this type of boat. It'll help keep you tracking straight so you won't have to spend the extra effort or strokes to keep it straight.

Just don't tell your friend any of this.. and then challenge them to a race.. Good luck!
I am a pretty big dude, 6'3, 260, 38 inch...
I am a pretty big dude, 6'3, 260, 38 inch waist. Will this boat be suitable for my size? Also any recommandadions on a decent spray skirt that will fit me/this boat?
Best Answer
Rob,

Getting a boat is like getting a new pair of pants- but a pair that costs a grand. You gotta make sure they fit, so you try them on. These boats do have quite a bit of room for us bigger dudes, but the only way to really tell is to try on or demo the boat. Demo, Demo, Demo. Dealers often have access to demo boats, and kayak shows are a great time to get into one whether its from someone trying to sell it, or its just another river rat with a boat you're interested in.



As far as skirts go, 38 inch isn't huge, and most skirts on the larger side will fit ya, the biggest thing is the cockpit dimensions (38 x 21.5 in).
Unanswered Question
Are these the 2013 or 2014 models?
Are these the 2013 or 2014 models?