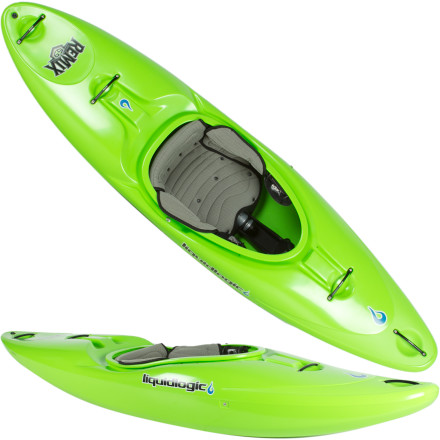 Detail Images
Liquid Logic shaped the Remix 59 Kayak for smaller, adult paddlers who fiend for technical waters. Point this boat at something scary and you might scream like a little girl at first, but once the Remix hooks up, you'll never look back again. Speed, stability and turn-on-a-dime maneuverability are points of pride for the Remix. Greenhorn river goers will find confidence in its comfort and predictability and experienced paddlers will wield it as a tool to test their limits. The Remix stays on top in the drops, carves like a hot knife through butter and delivers you home safe and sound, and what more can you ask for?
Combination of the long hull platform (smooth glides through your eddy turns and peel-outs), rounded sidewall (great secondary stability and bracing), and modern chine placement all create a stable, fast, responsive boat that turns on a dime and rolls like a champ
Extra width at the ends provides reassuring stability in big water
High rocker in bow to go over big waves and land larger boofs
Easily adjustable plastic backband and thigh braces make customizing the Remix quick and efficient
Aircraft-grade aluminum bar handles are great for carrying the boat and sturdy enough to use in rescues
Adjustable flat bulkhead for good foot placement
What do you think about this product?
Have questions about this product?