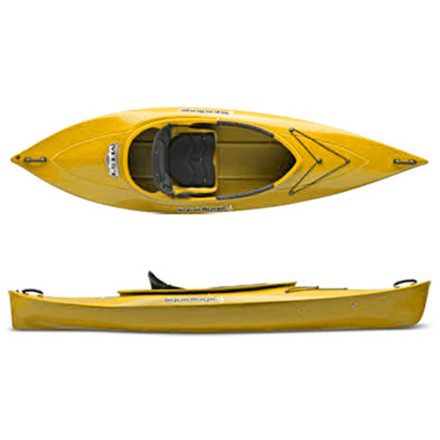 Community Images
The Liquidlogic Mist 9.5 Kayak is the boat that anyone in your clan can paddle. The Mist's smaller size and incredible stability make paddling easy and enjoyable. When it's time for the kids to burn some energy, chill out on the shore and watch as they confidently navigate the Mist on calm open water or your local creek.
Swedeform hull shape means greater volume in the stern (rear) and less in the bow (front) to help the boat go faster and cut through choppy water or waves
Straight hull profile (no rocker) offers the best tracking for long-distance paddling
Adjustable seat offers support and extra comfort
Large cockpit offers easy entry and exit and can accommodate a spray skirt
Bow bungees let you stash a hat or secure the blade of your paddle
Bow and stern grab handles make transport easy for one adult or two kids
What do you think about this product?
Have questions about this product?
I was a little nervous about this kayak with no previous reviews to reference. That is until I discovered that this boat was formally sold under the Heritage Featherlite brand of which it was well rated. I wanted to give a review since no one has yet. I put it out on a small lake for the first time and was pleased. I'm 6' and 255 lb and this boat gives me plenty of room. With my size the kayak still road pretty high in the water, even when my 50 lb dog decided to join me. I was also happy with the boats tracking and maneuverability. I can stop paddling and the boat holds a steady glide. The boat is also outfitted well for a boat in this price range. The seat is actually from sea to summit and is of decent quality.
Hey there! Thanks for your question. Unfortunately, we only ship kayaks to the lower 48. Sorry for the bad news!