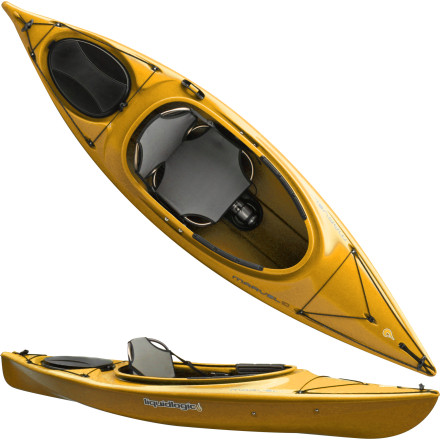 Community Images
Recreational paddlers will find the Liquidlogic Marvel 10 Kayak comfortable and enjoyable from the high-back cockpit seating to the streamlined hull. An open cockpit area allows paddlers of all sizes to slide inside the boat and get moving quickly. Just stash your necessities in the stern storage, pull out a paddle, and away you go.
Ultra-comfortable open cockpit allows plenty of room to move around inside
Mesh-backed seat offers higher back support than other kayak seats, making this cockpit ideal for novice paddlers
Minimal rocker and hard lines at the bow and stern make this boat easy to paddle through a variety of conditions from flat-water to chop
Bungee cord deck attachments hold a map or spare layer close at hand
Stern storage gives you a dry place to toss a day pack, dry bag, or other essentials that won't easily fit in the cockpit
This is a fantastic kayak. I mainly use it for smaller, fast moving rivers and creeks. It's easy to maneuver, tracks well,is light weight (I'm a 5'4 female). The seat is the most comfortable I've encountered in a kayak, the dry hatch is roomy and keeps things dry. Plenty of room in the cockpit to put my feet up and relax, nice positining of bungees and paddle holder. My complaints are no drain hole, but it's pretty easy to pick up and drain, and the cup holder doesn't fit standard bottles\cans too well (works fine with the included water bottle). I was a little nervous ordering this online since I had not seen it, but shipping was a breeze, and it's a steal if you can get it on sale.
Unanswered Question
Would this Kayak be decent for the ocean,...
Would this Kayak be decent for the ocean, mostly calm water but occasionally a little rougher.
Native Watercraft Marvel?
Got one last year on clearance for my wife.She loves it. Great for small rivers here in Iowa.
Im not that experienced of a paddler, and this is the first boat i have ever purchased. That being said, im glad my first boat was the Marvel 10. The seat is SUPER comfortable. I spent 8 hours in it one day at a wakeboard tournament, and was cruising in comfort the whole time. This thing also took the huge wake like a champ. The dry storage keeps my goodies bone dry, which is probably why its a little difficult to get open sometimes. I have taken my 25lb dog out in it a few times and it seemed very stable and tracked well when she was sitting still. The bungee straps front and rear are also great for holding down muddy shoes. My only complaint is no drain hole. I have to pick the thing up completely over my head to get most of the water out. I would definitely recommend it to anyone looking for a sturdy, comfortable boat.
Hey guys, I'm an experienced canoer and...
Hey guys, I'm an experienced canoer and have paddled light rapids in canoes frequently, but my wife and I are wanting to make the switch to kayaks. I'm looking for some recommendations for entry level boats. We will be almost exclusively paddling small, quick rivers that we have previously paddled in canoes, but will likely go through some rapids that we previously portaged around. Any thoughts on boats?
Take a look at the LL Remix XP 9 and 10. They are great beginner, white water kayaks with some added versatility for packing some stuff and camping. Also for anyone just getting in to paddling check out paddling.net for tons of helpful articles, people and ideas.
This kayak is great! Tracks well, love the seat and everything about it!