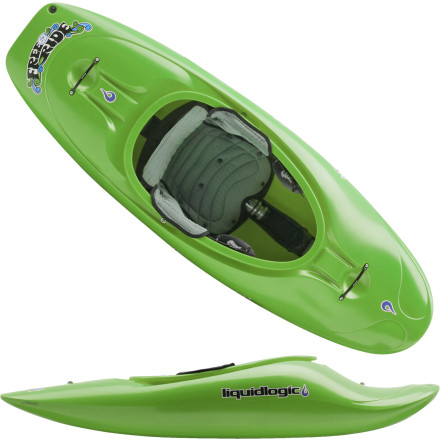 Detail Images
You've been waiting for a river-runner that'll open up the playful potential of your local river, and the Liquid Logic Freeride 67 Kayak is just the tool for the job. Squat with low volume and plenty of bow rocker, the hull feels both loose enough to roll quickly and predictable enough to carry speed through a variety of water conditions. Smaller, intermediate whitewater paddles will be able to slide right into fast-moving water and feel confident surfing holes, straight-lining through tight sections, and cartwheeling to their hearts' content.
Polyethylene hull is highly durable and capable of taking hard hits in fast-moving water
Hull features heavy rocker in the bow and stern for mobility, a flat bottom for speed, and a multi-stage chine that makes for crisp edging
Chamfered Edges offer a clean-carving edge that snaps into eddies but doesn't catch or trip you up when you're hit with a cross current
Massive cockpit opening leaves room to move and makes it easy to climb in and out
Badass outfitting includes adjustable seating, thigh braces, and contoured hip pads that ensure your comfort no matter how big a hit you take in the river
Thermoformed bulkhead sits between the legs and adds to the structural integrity of the boat, making it extremely hard for the boat to fold in a pin situation
Two deep grab handles add to overall safety in a variety of different rescue or recovery situations
I am a surf kayaker and have been for 4...
I am a surf kayaker and have been for 4 years now. What boat would you recommend. I am an intermediate paddler so which ever will be able to carve those waves the best
Hey Jeremy,



This Freeride is great for surfing! For another surftastic choice, check out the Pyranha Jed-- http://www.backcountry.com/pyranha-jed-kayak



If you've got any other questions, feel free to give me a call! 800.409.4502, ext 4456.
amazingly comfortable surfs great fun all around just ran it down the chattooga and it preformed great very pleased
I am a paddler at the worst weight 210...
I am a paddler at the worst weight 210 Should I get the 57 which maxes at 220 or the 67 which keeps me towards the low end?
I'm not a paddler, but I do know that about a 5% safety margin isn't big enough for much of anything. Buoyancy is your friend.
If you are planning on using it more for freestyle/playboating I would recommend the smaller one. If you go with the bigger one it should do better on the river running side of things.
Liquid Logic Freeride Promo